By Ginger Grant, AuD, Professional Education Manager
A Cochlear bone conduction solution may be the best option for patients with conductive hearing loss (CHL), mixed hearing loss (MHL) or single-sided deafness (SSD). In fact, did you know that patients with an air-bone gap > 30 dB typically perform better with bone conduction than with hearing aids?1 Cochlear has a portfolio of options with a proven history of reliabilitythat can help along the hearing treatment journey.2,3
Evaluating the needs of each individual patient will help you to determine if a surgical or non-surgical option is preferred, the amount of desired gain and output needed, patient expectations and the right accessory choices. Considerations include:
Response to a bone conduction demonstration
Hearing health history
Hearing loss (including presence/absence of air-bone gap)
Age of the patient
Goals for treatment
Other health concerns
Baha® Start
Baha Start is the first step in bone conduction. Using the Baha 6 Max Sound Processor with either a Baha Softband or SoundArc™ supports up to a 55dB SNHL fitting range for patients with CHL, MHL or SSD. This non-surgical option is ideal for young children, those with fluctuating hearing loss or those who either don't qualify for or don't want a procedure.
Osia® System
The Osia System uses a powerful, active osseointegrated steady-state implant with a transcutaneous connection to provide maximum power, especially in the high frequencies without the tissue and hygiene challenges of a traditional percutaneous solution. While providing up to 12dB of additional high frequency gain compared to traditional electromagnetic bone conduction systems, the Osia 2 Sound Processor features advanced signal processing, wireless connectivity and water resistance. With a fitting range up to 55 dB SNHL the Osia is an option for patients with CHL, MHL or SSD.
Baha Connect System
For patients who may not be suited for an active surgical solution (like the Osia System), the Baha Connect System may be an optimal alternative. This system transmits sound vibrations through an abutment which connects the sound processor to the implant through the skin. The benefit of the Baha Connect is direct and efficient transmission of vibrations into the bone. The Baha Connect System uses a Baha 6 Max Sound Processor, with additional options available if even more power (up to 65dB) is desired.
Cochlear's Lend An Ear Program
There's no time to waste when it comes to maximizing hearing during the critical period of language development in children. Cochlear's Lend an Ear programwas created for children 12 and under who need early access to sound through a bone conduction solution. This unique program provides a Baha 6 Max Sound Processor while the insurance approval process is taking place. Reach out to your local Cochlear representative for more information about the Lend an Ear program.
For more information about bone conduction solution candidacy and choosing the right system for your patients, please see our AudiologyOnline courses.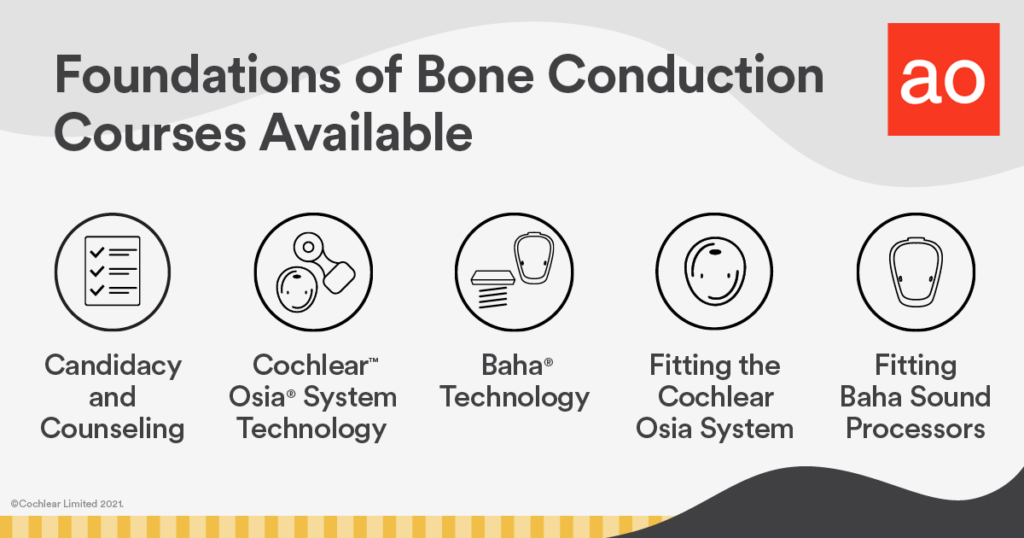 References:
de Wolf MJ, Hendrix S, Cremers CW, Snik AF. Better performance with bone‐anchored hearing aid than acoustic devices in patients with severe air‐bone gap. Laryngoscope. 2011;121:613-616.
Cochlear Bone Anchored Solutions AB, Mölnlycke, Sweden. Long term stability, survival and tolerability of a (novel) Baha implant system. In: ClinicalTrials.gov [Internet]. Bethesda (MD): National Library of Medicine (US). [Cited 2016 Jan 6]. Available from: https://clinicaltrials.gov/ct2/show/NCT02092610. NLM Identifier: NCT02092610.
Vanaelst B. Literature review and Evaluation: BI300 Implant years and survival rate. Cochlear Bone Anchored Solutions AB, Sweden 2019.
In the United States and Canada, the Baha Connect Implant System is contraindicated in children below the age of five. In the United States, Osia 2 System is cleared for children ages twelve and older. In Canada, the Osia System is indicated for those ages five and older.