During a recent live webinar, a panel of audiology professionals shared their experiences with Cochlear's remote service solutions. The panel discussion is now available as a standalone [downloadable] audio file, accessible below.
Dr. Mila Duke, Dr. Regina Presley and Dr. Melissa Anderson discuss remote care implementation in the evolving telehealth landscape. During the Q&A, the panel applies their breadth of clinical care experience to optimize Cochlear's Remote Care solutions for their patients.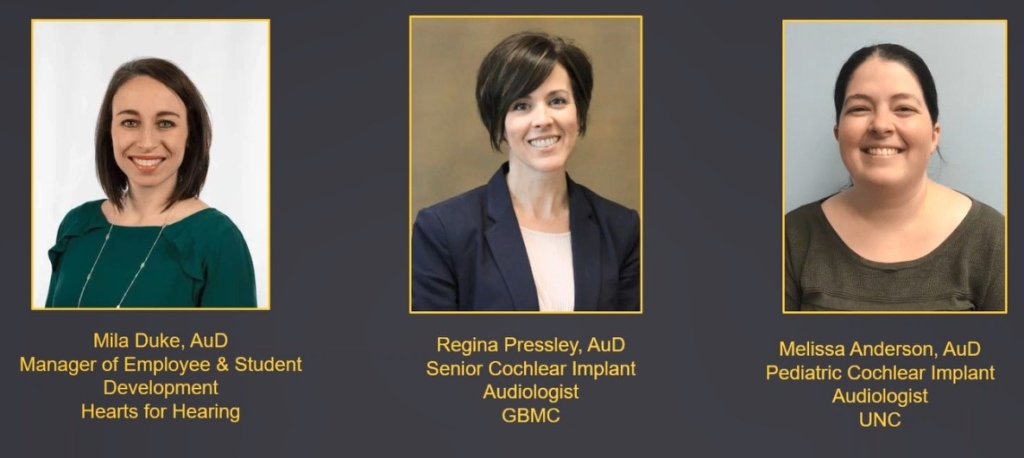 These experts examine the need for audiologists to be recognized as telehealth providers, especially regarding troubleshooting and counseling. Further, they review the patient benefits, as well as the cost and time savings associated with Cochlear Link as clinics strive to meet the demands of increasing service requests that parallel efficiency challenges.
Additionally, Dr. Presley carefully considers the call for streamlined services and protocols following the COVID pandemic. In her experience, Remote Check (not live yet) can keep patients and professionals conveniently connected, quicken patient monitoring and supplement professional insight. She notes that even in a newer telehealth environment, less tech savvy patients shouldn't be discounted from utilizing remote services.
Cochlear Link, Remote Check and Remote Programming create an environment for clinicians to pinpoint urgent patient needs and prioritize accordingly.
Listen now to hear more!
File may not be compatible with all browser types. File has been updated.
About Remote Check
Remote Check is designed to be a convenient, at-home testing tool that allows Cochlear recipients with a Cochlear™ Nucleus® 7 Sound Processor to complete a series of hearing tests from their compatible iOS device using the Nucleus Smart App.* Results are then sent remotely to the recipient's clinic for review by their clinician. The clinician can review the results by logging into their myCochlear Clinic professional portal, where they can access a comprehensive overview of their patient's hearing health. Remote Check is designed to provide a snapshot of a patient's hearing health so a clinician can quickly determine whether a patient is progressing well, or whether further clinical intervention is required.**
Remote Check is intended for ages 6 and older. The Remote Check feature is only visible and accessible if the feature is enabled by a clinician. Clinicians should consider the suitability of the feature before enabling Remote Check.
For more information on services and telehealth solutions, watch our full Remote Care webinar.
The Cochlear Nucleus 7 Sound Processor is compatible with iPhone, iPad and iPod touch. Apple, the Apple logo, FaceTime, Made for iPad logo, Made for iPhone logo, Made for iPod logo, iPhone, iPad Pro, iPad Air, iPad mini, iPad and iPod touch are trademarks of Apple Inc., registered in the U.S. and other countries. The Cochlear Nucleus Smart App is available on App Store and Google Play. For complete smartphone compatibility information, please visit www.cochlear.com/compatibility.
App Store is a service mark of Apple Inc., registered in the U.S. and other countries.
Android and Google Play are registered trademarks of Google Inc.The Android robot is reproduced or modified from work created and shared by Google and used according to terms described in the Creative Commons 3.0 Attribution License.
* To use Remote Check, a patient requires: latest version of the Nucleus Smart App (Remote Check is part of this App) running on a compatible Apple device (iPhone or iPod Touch); Nucleus 7 Sound Processors with implant models: CI24RE, CI512, CI513, CI522, CI532, CI612, CI622 and CI632; compatible firmware on the Nucleus 7 Sound Processor (4.1.3.3 or later). A clinician requires access to Cochlear's secure web-based myCochlear.com Professional Portal to access and review patient results. The recommended browser for accessing the Professional Portal is Google Chrome. A clinician also requires Custom Sound 5.1 or later software to upgrade the patient's firmware to enable access to Remote Check. For sound processor and app compatibility information, visit www.cochlear.com/compatibility.
** Remote Check does not replace clinical care and does not involve remote programming of the sound processor.