Cochlear is committed to innovation, and we know one of the most exciting things about the technology is that it continues to evolve. Next-generation sound processors are designed to deliver improved hearing performance, new connectivity and capabilities, and work with a patient's existing implant. Historically, peer-reviewed publications demonstrate that upgrading to the latest sound processor technology has been beneficial for patients, clinics, and society.1-16
While Cochlear has comprehensive recipient-facing resources to help patients explore the benefits and process of upgrading their sound processor, as well as resources to help navigate payment and recipient testimonials about upgrading, we heard feedback from clinicians that the process of facilitating sound processor upgrades for patients can feel overwhelming and complex. A sampling of the questions we've heard are: Who is eligible and how does one know? What resources are available to clinicians and patients? What is the current process? To answer these questions and more, Cochlear is excited to announce a series of five professional-facing videos that provide an outline of the process, resources, and support available to you and your patients to make the upgrade process for a CochlearTM next-generation sound processor as seamless as possible.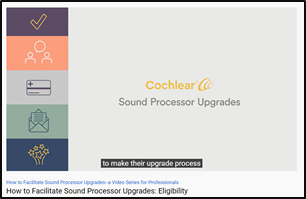 Eligibility:
In this short video, we cover the first step, which is how to determine if a patient is eligible for a sound processor upgrade through their insurance, including how to use Custom Sound Pro to identify patients who have had their technology for more than five years.
Pre-Upgrade Counseling:
In the second video, we cover the multiple resources Cochlear has to support you and your upgrade eligible patients as they explore their options before placing an order.
Order Placement
In the third video, we cover we cover the options on how, where, and with whom patients can fill out and submit the sound processor upgrade order placement form.
Letter of Medical Necessity
In the fourth video, we cover a few key highlights about the Letter of Medical Necessity, which serves as the prescription allowing Cochlear to provide the specific products ordered and verifies that they are medically necessary for the patient's cochlear implant to continuously function.
On-boarding
In this final video, we discuss the options available for onboarding after the patient receives their upgraded sound processor, typically 6-8 weeks after order placement.
We heard your feedback. These videos are the first peek into of a comprehensive set of professional facing resources about sound processor upgrades that will be available over the coming months.
References:
1. Hey M, Böhnke B, Mewes A, Munder P, Mauger SJ, Hocke T. Speech comprehension across multiple CI processor generations: Scene dependent signal processing. Laryngoscope Investigative Otolaryngology. 2021 Aug;6(4):807-15.
2. Go­ -Gomez MV, Muniz L, Wiemes G, Onuki LC, Calonga L, Osterne FJ, Kós MI, Caldas FF, Cardoso C, Cagnacci B. Contribution of noise reduction pre-processing and microphone directionality strategies in the speech recognition in noise in adult cochlear implant users. European Archives of Oto-Rhino-Laryngology. 2021 Aug;278(8):2823-8.
3. Mauger SJ, Warren CD, Knight MR, Goorevich M, Nel E. Clinical evaluation of the Nucleus® 6 cochlear implant system: Performance improvements with SmartSound iQ. International Journal of Audiology. 2014 Aug 1;53(8):564-76.
4. Mosnier I, Sterkers O, Nguyen Y, Lahlou G. Benefits in noise from sound processor upgrade in thirty-three cochlear implant users for more than 20 years. European Archives of Oto-Rhino-Laryngology. 2021 Mar;278(3):827-31.
5. Pinheiro MM, Mancini PC, Soares AD, Ribas Â, Lima DP, Cavadas M, Banhara MR, da Silva Carvalho SA, Buzo BC. Comparison of Speech Recognition in Cochlear Implant Users with Different Speech Processors. Journal of the American Academy of Audiology. 2021 Jul;32(07):469-76.
6. Plasmans A, Rushbrooke E, Moran M, Spence C, Theuwis L, Zarowski A, Oeciers E, Atkinson B, McGovern J, Dornan D, Leigh J. A multi-center clinical evaluation of pediatric cochlear implant users upgrading to the Nucleus® 6 system. International Journal of Pediatric Otorhinolaryngology. 2016 Apr 1;83:193-9.
7. Biever A, Gilden J, Zwolan T, Mears M, Beiter A. Upgrade to Nucleus® 6 in Previous Generation Cochlear™ sound processor patients. Journal of the American Academy of Audiology. 2018 Oct;29(09):802-13.
8. Mauger SJ, Jones M, Nel E, Del Dot J. Clinical outcomes with the Kanso™ off-the-ear cochlear implant sound processor. International Journal of Audiology. 2017 Apr 3;56(4):267-76.
9. Mosnier I, Marx M, Venail F, Loundon N, Roux-Vaillard S, Sterkers O. Bene‑ ts from upgrade to the CP810™ sound processor for Nucleus® 24 cochlear implant patients. Eur Arch Otorhinolaryngol 2014; 271:49–57.
10. Warren CD, Nel E, Boyd PJ. Controlled comparative clinical trial of hearing bene‑ t outcomes for users of the Cochlear™ Nucleus® 7 Sound Processor with mobile connectivity. Cochlear Implants International. 2019 May 4;20(3):116-26.
11. Maruthurkkara S, Allen A, Cullington H, MuJ, Arora K, Johnson S. Remote check test battery for cochlear implant patients: proof of concept study. International Journal of Audiology. 2021 Aug 24:1-0.
12. Maruthurkkara S, Case S, Rottier R. Evaluation of Remote Check: A Clinical Tool for Asynchronous Monitoring and Triage of Cochlear Implant Patients. Ear and Hearing. 2022 Mar 1;43(2):495-506.
13. Neve OM, Boerman JA, van den Hout WB, Briaire JJ, van Benthem PP, Frijns JH. Cost-bene‑ t analysis of cochlear implants: A societal perspective. Ear and Hearing. 2021 Sep;42(5):1338.
14. FoteC, Kennedy S, Milton AH, Deger M, Payk F, Sanderson G. Cost–utility analysis of cochlear implantation in Australian adults. Otology & Neurotology. 2016 Jun 1;37(5):454-61.
15. Cutler H, Gumbie M, Olin E, Parkinson B, Bowman R, Quadri H, Mann T. The cost-effectiveness of unilateral cochlear implants in UK adults. The European Journal of Health Economics. 2021 Nov 2:1-7.
16. Gumbie M, Olin E, Parkinson B, Bowman R, Cutler H. The cost-effectiveness of Cochlear implants in Swedish adults. BMC health services research. 2021 Dec;21(1):1-4.