By Kyle Longwell, Product Manager – Software and Clinical Care
We know one of the most exciting things about Cochlear technology is that it continues to evolve. Next-generation sound processors are designed to deliver clearer sound, new connections and capabilities and work with a patient's existing implant.
When patients are considering an upgrade to newer technology, one of their main considerations is improvement in hearing performance. In addition, your patient's insurance company has considerations for when a sound processor upgrade is medically necessary for patients.
Patients are typically deemed eligible for a medically necessary sound processor upgrade by their insurance company when their device is out of warranty, and one or more of the following occurs:
The device has reached its "end of useful life"—usually after five or more years of continuous use
The device is lost or irreparably damaged
The device is retired or obsolete, which is a normal part of a product life cycle that occurs as technology advances
There is a demonstrated improvement in hearing performance with next-generation technology
As with all technology, there is a set time period that it is likely to remain in service before newer technology supersedes it. Many insurance plans, including Medicare and Medicaid, may authorize the replacement of a sound processor when it has reached or passed a stated period of "useful life," usually five years.
As new technology is developed, older sound processors may become outdated and retired. Cochlear may decide to phase out production and support of aging technology, after which time, parts and accessories may no longer by available.
We know it may be a challenge to identify patients who might be 'upgrade eligible' and want to provide a few tips that might help along the way. Custom Sound® Pro fitting software has useful tools built in to help you identify patients who have reached the "end of useful life" of their sound processor and might be ready for an upgrade. Using Custom Sound Pro, you can identify individual patients and also pull a report to proactively identify groups of patients who have had their sound processor for more than five years.
When opening a specific patient record in Custom Sound Pro, you may see a notification on the patient dashboard which will indicate that an individual patient has had their sound processor for more than five years, and that newer technology might be available to benefit the patient. You will see a yellow '!' icon to indicate this notice. You can ignore the notification (no specific action required) or dismiss by opening the pop-up message and clicking Dismiss, but the icon itself can serve as a hint that the patient is in outdated technology.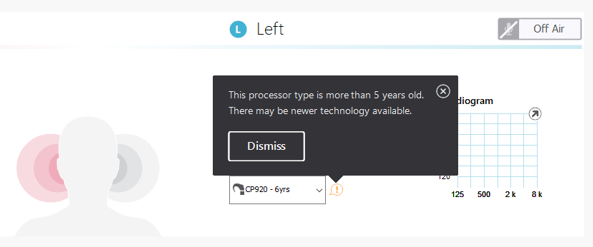 Another available tool in the fitting software is the Device Status Report located in the Tools menu of Custom Sound Pro which can be used to generate a spreadsheet of your clinic database including patient sound processor type and fitting date. After clicking on Device Status Report, an Excel file is generated from non-archived patients within the database that can be sorted and filtered, based on clinician preference. The information in the report (namely, Latest_Sound_Processor_Model and Years_Since_Earliest_Session_Date) can be another useful way to identify patients that may benefit from newer technology.

When your patients are ready to upgrade to newer technology, Cochlear has a host of resources available to help patients understand how to upgrade and the steps needed to upgrade their Cochlear sound processor. Whether patients prefer to self-pay for their new sound processor or utilize their insurance benefits, Cochlear's specialists can help walk through the process, get their order started and navigate their insurance, if applicable.