By Zach Pollack, Product Manager, Cochlear Implants
Why does innovation matter to Cochlear? Why is it important to continue advancing our technology?
Innovation matters to Cochlear because we are focused on delivering key technology improvements to our recipients. These innovations bring performance that matters, a true connection to life and a lifelong commitment to all of our recipients. The most advanced and reliable devices on the market are a result of 40 years of innovations.
When asked about Cochlear's innovations over the course of his career, Dr. Britt Thedinger from the Ear Specialists of Omaha says,
"I have seen Cochlear's innovations over the past 30 years truly changing people's lives for the better. The dependability, sound quality and customer service have had a dramatic difference in each patient's life."
While our history of innovation is deeply rooted in the implant, processor and electrode-side of the business, we have also been innovating our software and services along the way. These innovations are interconnected, and recipients experience these innovations at different times throughout their journey with a Cochlear device. This is why it's so important that the first ever CI22M Implant recipients have access to the most advanced technology in the industry with the Nucleus® 7 Sound Processor.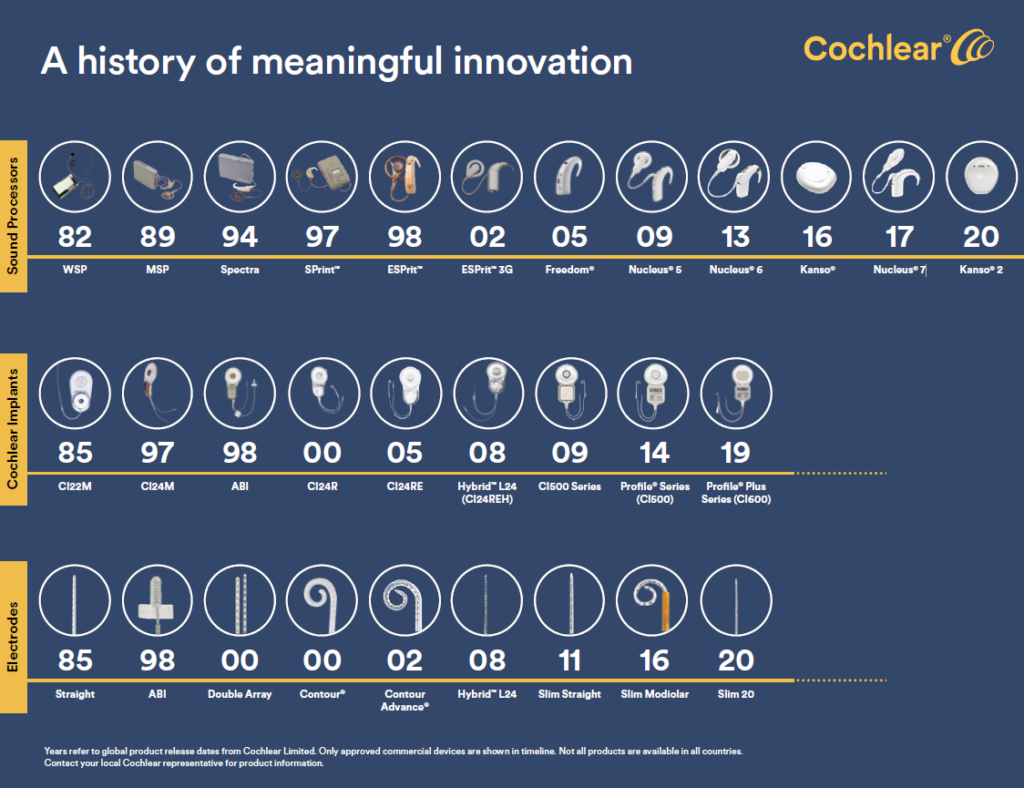 So, with the most reliable implants on the market and advanced features within our sound processors, what are we setting our sights on next? Through investing in new technologies to help transform the way people connect with hearing care, we hope to make care more patient-centered, accessible and sustainable. We call this Connected Care. Our Connected Care technologies enable patient data to securely connect from the surgical suite to the clinic and into the patient's everyday life. Some recent innovations within Connected Care including technologies supporting the delivery of Surgical Care and Remote Care, have already started to transform how patients and professionals connect with each other.
Remote Care– Remote Check and Remote Assist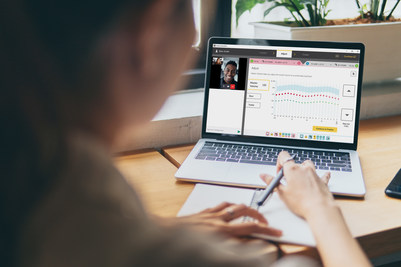 We've brought to market first-of-its-kind solutions, like Remote Check, into the Connected Care landscape for CI recipients. Remote Check allows professionals and patients to assess performance without the need for an in-person appointment, helping ensure recipients continue to hear and stay connected. This is facilitated through the Nucleus Smart App and can be completed from the comfort of the recipient's home. Their audiologist can then view the results and follow-up as necessary. Whether a young child accidentally fell on the playground and the parent would like to confirm the device is functioning properly, or a patient who has had their device for 20+ years and would like to minimize exposure to healthcare environments for an annual appointment, Remote Check allows both of these recipients to receive care when and where they want or need it.
In addition to Remote Check, we are proud to announce FDA approval and clearance in the last month for Cochlear™ Remote Assist in the Nucleus® and Baha® Systems. Remote Assist is more like a conventional telehealth visit, where the audiologist and patient can engage through a live video call, and the clinician can make live adjustments or changes to the patient's processor. This tool is facilitated through the use of the recipient's cell phone and the Nucleus and Baha Smart Apps, bypassing the need for any wired connections.
Surgical Care– Nucleus SmartNav
Another core aspect of Connected Care is integrating the O.R. into a connected treatment pathway. SmartNav offers key insights during surgery through intraoperative testing that can increase confidence in electrode placement and device performance prior to leaving the O.R. and is a great tool for those centers that don't have access to intraoperative imaging. Data from SmartNav can then be exported into Custom Sound® Pro to give the Audiologist baseline data to better prepare for an initial activation. The data to support in theater decision making helps surgeons ensure patients have the best possible opportunity to maximize their outcomes.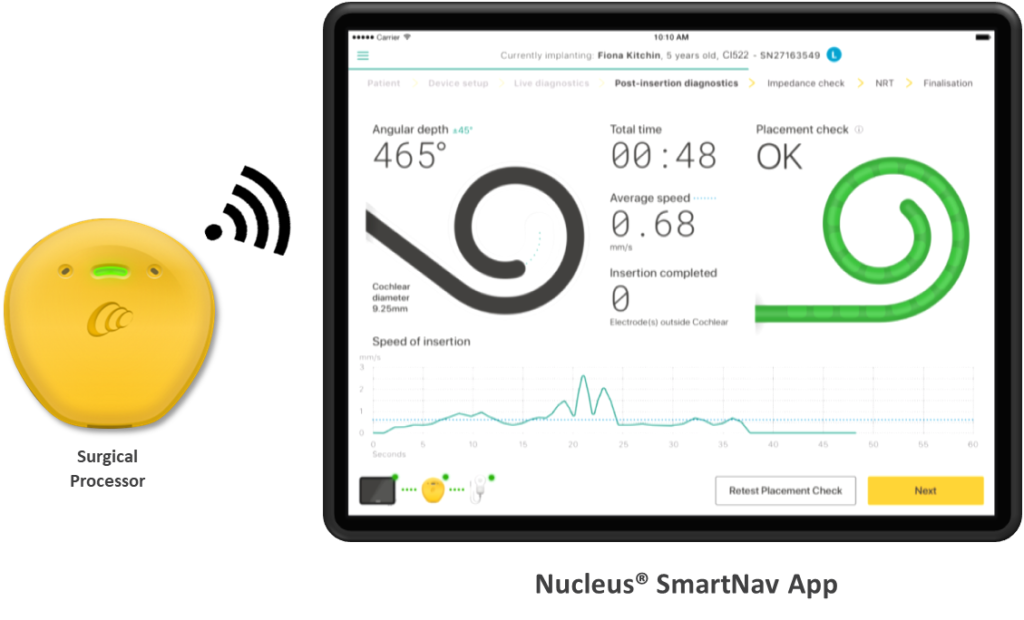 At Cochlear, we are committed to pushing the envelope with new technology and have been committed to that goal for over 40 years. We're proud that our recipients have access to the latest technology and features that allow them to connect to the world around them and are excited about what is to come.
To learn more about Connected Care, read our latest Service Report!
SmartNav offers a variety of measurements. These insights are one source of information and do not guarantee clinical outcomes.
Remote Check is intended for ages 6 and older. The Remote Check feature is only visible and accessible if the feature is enabled by a clinician. Clinicians should consider the suitability of the feature before enabling Remote Check. Remote Check does not replace clinical care and does not involve remote programming of the sound processor. Remote Check is not compatible with Baha 6 Max Sound Processors.
Remote Assist for Baha is intended for a follow-up adjustment or setup of a replacement or upgrade sound processor for suitable qualified patients based on clinical judgment. For compatibility information visit www.cochlear.com/compatibility.
Remote Check and Remote Assist for CI are intended for ages 6 and older. The Remote Check and Remote Assist feature are only visible and accessible if the features are enabled by a clinician. Clinicians should consider the suitability of the features before enabling. Remote Check is not compatible with Baha 6 Max Sound Processors. For compatibility information visit www.cochlear.com/compatibility.
The new Baha Smart App is compatible with the Baha 6 Max Sound Processor. Baha 5 Sound Processors are compatible with the Baha 5 Smart App. The Baha Smart App and Baha 5 Smart App are available on App Store and Google Play. For compatibility information, visit www.cochlear.com/compatibility.
The Cochlear Nucleus Smart App is available on App Store and Google Play. For compatibility information visit www.cochlear.com/compatibility