By Kyle Longwell, Product Manager – Software and Clinical Care
Today, patients expect care to be instantly available, personalized and easy to use. We also know how important your patients, their progress and hearing outcomes are to you. We understand that prioritizing quality patient care as you face increasing demands on your time can be a challenge.
With more patients being referred for hearing implants than ever before, how can we make hearing healthcare more patient centered, accessible and sustainable?
Introducing Cochlear™ Connected Care.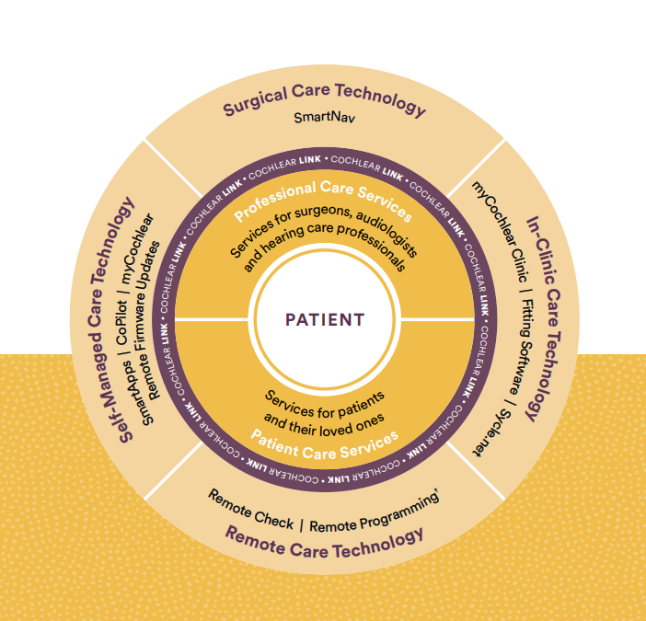 Connected Care is a transformational approach to hearing healthcare where patient data and insights seamlessly connect across different care settings – from the surgical suite, to the clinic and into a patient's everyday life.
Through Surgical Care, patient outcomes can be enhanced through actionable intraoperative tools and insights. With increased confidence in device placement, you may optimize surgical outcomes as well as post-operative clinical performance.
In-Clinic Care solutions use measurements from surgery – as well as Cochlear's extensive fitting and performance data – to streamline patient management and care giving you the time and flexibility to optimize every clinic appointment to ensure every visit delivers the best result for your patients.
With Remote Care solutions you can provide virtual care to more patients, even as your practice and caseload grows. You can have the flexibility to deliver quality, consistent care without your patients making a trip to the clinic. Remote Care solutions allow the convenience of fitting into your patient's lives and into your schedule to ensure ongoing care is received.
Using Self-Managed Care solutions, you can empower your patients to actively manage their hearing experience in partnership with you, using the latest in digital technology. Keep patients engaged on their hearing journey as they proactively manage their hearing and build listening and communication skills to optimize their hearing outcomes.
As the global leader in implantable hearing, with more than 650,000 devices implanted, our Connected Care solutions are built on extensive programming data and patient insights. By bringing together our evidence-based solutions and your expertise, Connected Care helps you optimize hearing outcomes for each patient at every stage of their hearing journey.
Connected Care solutions can help you:
Stay connected to your patients and better monitor their performance in the clinic and the real world
Increase clinic efficiency, enabling you to provide quality, convenient care to an increasing patient base
Empower patients to manage their devices and hearing experience
Join us in connecting people with hearing care. To learn more about how Connected Care solutions can help your program, contact your local Cochlear representative so they can discuss your goals and which technologies or services could help achieve them.
For further details about Cochlear's Connected Care portfolio read our annual Service Report or visit www.cochlear.us/ConnectedCare.
SmartNav offers a variety of measurements. These insights are one source of information and do not guarantee clinical outcomes.