At Cochlear, we understand you strive to provide the best possible hearing outcomes while minimizing disruption of a patient's daily life. Many considerations are involved in the process of selecting the manufacturer that can provide not only the best possible hearing outcomes, but also exceptional service and support to both you and your patients.
Synergy in the Solution

Here you'll find a comprehensive outline of our complete hearing solution to support you and enhance your patient's journey:
Maximizing Hearing Performance
• Nucleus® Profile™ Plus Implant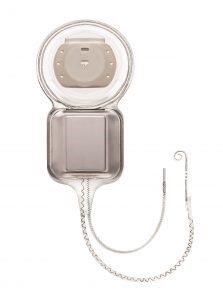 With the Nucleus Profile Plus Implant, cochlear implant recipients have access to 3.0 and 1.5 Tesla (T) MRI scans without the need for internal magnet removal or use of a head wrap¹. In the event of future changes in MRI technology or if image artifact reduction is needed, the easy-to-remove magnet is designed for lifetime access to MRI according to a recipient's healthcare needs. Further, its thin implant design provides a natural and low-profile appearance.
• Slim Modiolar Electrode (CI632)
The CI632 Slim Modiolar electrode features an ultra-slim perimodiolar electrode, designed for smooth and easy insertion to minimize intracochlear trauma3. More specifically, the Slim Modiolar electrode demonstrates 89% Scala Tympani placement2, 59.6% average wrapping factor3 and close to 100% patient satisfaction in bimodal hearing performance4 – making it an appropriate implant for a broad range of surgical situations.
Connect without Compromise
With the introduction of direct streaming and control with compatible Android™ and Apple® devices and True Wireless™ connectivity, patients don't require a sound processor attachment or accessory to connect to the world around them. You can help them connect in ways familiar to their daily life.

Proven Track Record of Quality
Reliability for lasting outcomes is a vital factor when counseling your patient about cochlear implants. While candidates seek a device that delivers high- sound quality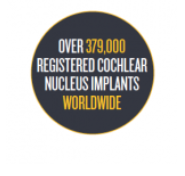 performance and cutting-edge technology for connectivity, they also want the peace of mind that their implant will stand the test of time.
Cochlear remains #1 in implant reliability according to the latest European and Global Consensus Statement on Cochlear Implant Failures and Explantations5. This widely recognized resource established the seven principles of best practice reporting and details how device failures and reliability should be reported to maintain uniformity and consistency across manufacturers.
Personalized Service
Service doesn't stop after surgery. Our wide range of services are available to ensure each patient is kept in sound and you are able to maximize your time doing what you love – caring for patients.
Cochlear™ Link, with secure cloud technology, enables automatic device registration and enhanced service and support for your patients, giving you less paperwork and allowing for your patients to be part of the Hear Always Program, which ensures that they are not left without sound.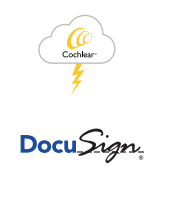 SignHEAR, powered by DocuSign® delivers an improved Letter of Medical Necessity (LMN) and reimbursement documentation request process that makes it easier for you to sign documents electronically from almost anywhere.
With the Cochlear Nucleus Profile Plus System with Slim Modiolar and Nucleus 7, we are setting a new benchmark in hearing performance.
To learn more about our complete cochlear implant solution please visit our website or download our brochure.
References:
1. MRI Guidelines D774756.
2. O'Connell BP, Cakir A, Hunter JB et al. Electrode location and angular insertion depth are predictors of audiologic outcomes in cochlear implantation. Otol Neurotol 2016;37(8):1016–1023. https://www.ncbi.nlm.nih.gov/pubmed/27348391
3. Holden LK, Finley CC, Firszt JB, Holden TA, Brenner C, Potts LG, et al. Factors affecting open-set word recognition in adults with cochlear implants. Ear Hear. 2013; 34(3):342-60
4. Clinical Evaluation of the Cochlear Nucleus CI532 Cochlear Implants in Adults Investigator Meeting. 2019 Apr.
5. European Consensus Statement on Cochlear Implant Failures and Explantations. Otol Neurotol. 26: 1097-1099, 2005.
The Cochlear Nucleus 7 Sound Processor is compatible with iPhone, iPad and iPod touch. Apple, the Apple logo, FaceTime, Made for iPad logo, Made for iPhone logo, Made for iPod logo, iPhone, iPad Pro, iPad Air, iPad mini, iPad and iPod touch are trademarks of Apple Inc., registered in the U.S. and other countries
App Store is a service mark of Apple Inc., registered in the U.S. and other countries.
Android and Google Play are registered trademarks of Google Inc. The Android robot is reproduced or modified from work created and shared by Google and used according to terms described in the Creative Commons 3.0 Attribution License.
The Cochlear Nucleus Smart App is available on App Store and Google Play. For complete smartphone compatibility information, please visit www.cochlear.com/compatibility.