By Wade Colburn, Product Manager, Cochlear Implants at Cochlear Americas
For almost 40 years, Cochlear has partnered with professionals across the globe to guide individuals with hearing loss into the world of sound.
Today, the Cochlear™ Nucleus® system is the most implanted cochlear implant device with more than 379,000 implants globally1, keeping people connected to the world, and each other, through sound.
During the initial stages of the patient journey, choosing an implant system is an important decision and product reliability is a primary consideration. While candidates seek a device that delivers high sound quality performance and cutting-edge technology for connectivity, they also want the peace of mind that their implant will stand the test of time.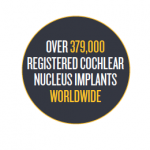 To demonstrate Cochlear's ongoing commitment to a lifetime of sound, device reliability reporting is completed and published annually according to the European and Global Consensus Statement on Cochlear Implant Failures and Explantations2. This widely recognized resource established the seven principles of best practice reporting and details how device failures and reliability should be reported to maintain uniformity and consistency across manufacturers.
The most recent Cochlear implant reliability report (Volume 17) is now available and maintains consistently high ratings across the product portfolio. The Cochlear Profile Series demonstrates a cumulative survival percentage (CSP) of 99.82% within 5 years of implantation, while the Cochlear Freedom Series remains at 99.00% within 14 years1. These market-leading results validate that Cochlear continues to be not only the most implanted manufacturer, but also the most reliable. Applying the globally sanctioned quality reporting standards to devices from other cochlear implant manufacturers demonstrates this fact:
Cochlear Profile: 1 in 556 devices fail within 5 years1
Advanced Bionics® HiRes™ 90K Advantage: 1 in 141 devices fail within 5 years3
MED-EL® SYNCHRONY: 1 in 55 devices fail within 3 years4
Constantly striving to improve reliability is a cornerstone of Cochlear's implant design process and is among the most important features patients consider when selecting a cochlear implant. Our consistent best-in-class reliability rating illustrates our commitment to supporting a lifetime of hearing for our recipients, so they may Hear now. And always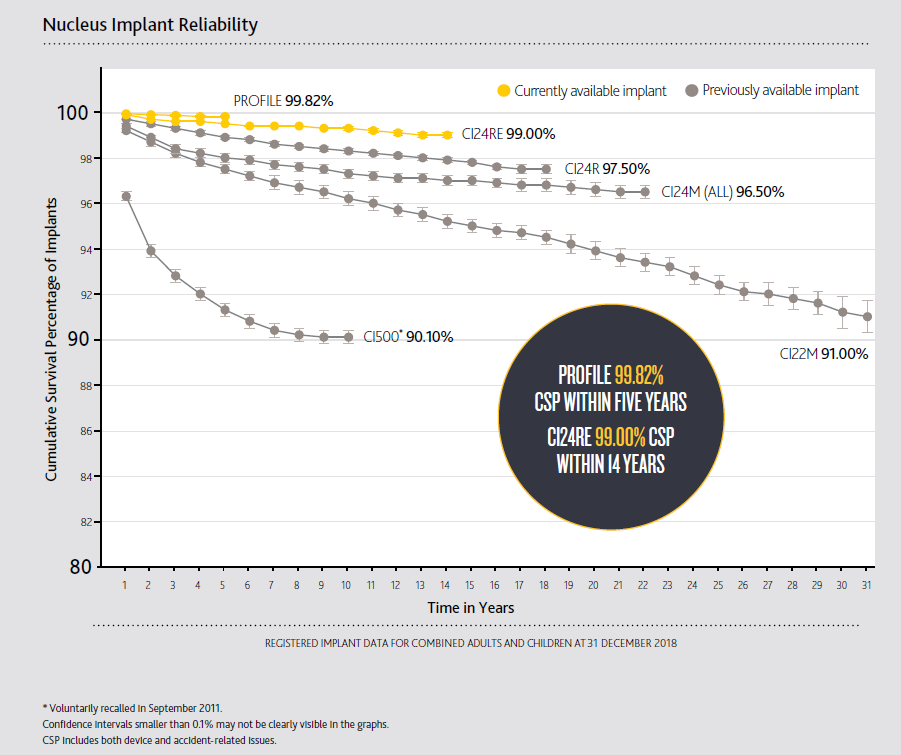 View the latest report and learn more about Cochlear implant reliability.
About our guest author: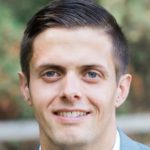 Wade Colburn is the Product Manager for the Cochlear™ Implant product portfolio within Cochlear Americas. Wade's responsibilities include product positioning and messaging, life-cycle management, new product launches and surgical support and training. Wade has recently joined Cochlear and comes from an engineering background within the medical device field, including previous otology experience.
References:
1. Cochlear Nucleus Implant Reliability Report. Volume 17 | December 2018. D1593476. Cochlear Ltd; 2018
2. European Consensus Statement on Cochlear Implant Failures and Explantations. Otol Neurotol. 26: 1097-1099, 2005.
3. 2018 Global Reliability Report. 027-N025-02 Rev B. Advanced Bionics AG and Affiliates.; 2018.
4. Hearing Implant Reliability Reporting | MEDEL [Internet]. MedEl.com. 2018 [cited 24 Oct 2018]. Available from: https://www.medel.com/us/reliabilityreporting.
© Cochlear Limited 2019. All rights reserved. Hear now. And always and other trademarks and registered trademarks are the property of Cochlear Limited or Cochlear Bone Anchored Solutions AB. The names of actual companies and products mentioned herein may be the trademarks of their respective owners.