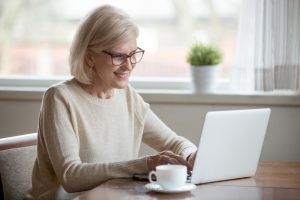 Life gets simplified with the online Cochlear Store. Through this easy-to-use online portal, your patients will find the accompanying parts and accessories they need to get the most out of their sound processor. Depending on their specific health plan, patients may even have the option to utilize direct insurance billing for medically necessary parts and accessories.
Patients can easily shop for products they need to enhance their hearing experience – whether it's a new rechargeable battery, replacement microphone covers or Cochlear True Wireless™ accessories. With personalized shopping based on their personal device and insurance resources, the Cochlear online store is the most convenient way for patients to customize their hearing experience with the latest accessories.
Beyond the convenience of online shopping, patients are also eligible for free shipping on orders over $50*. The online store denotes parts and accessories that are commonly covered by insurance using this icon

, and when ordering these items, Cochlear's Reimbursement & Insurance Services may be utilized to bill their applicable private insurance plans, Medicare and many state Medicaid plans.**
Other features of the online Cochlear Store include:
Quick and simple navigation to and from your patient's Cochlear Family account
A refined product catalog with easier navigation features
A customized shopping experience for your patient based on their device
Access to exclusive promotions
The Cochlear Store is available to all Cochlear Family members. Registration for Cochlear Family is free, fast and incredibly simple – patients can start by visiting Cochlear Family.
*Select one of the following shipping methods during checkout:
(1) 5 – 7 business days (Ground) FREE
(2) 3 – 5 business days (Ground) FREE
Free shipping is valid on orders over $50 and shipped to single U.S address after promotions and discounts are applied.
Taxes do not qualify toward the minimum purchase requirement.
Offer and delivery times are subject to change without notice and exclude purchases from Cochlear Americas.
**As of Feb 1, 2018, Cochlear provides direct insurance billing support for many major private insurance plans, Medicare, Medicaid† (including HMOs) and Tricare for repairs, parts and accessories. Cochlear's full-service billing support is available for recipients who are covered under one of the plans with whom Cochlear is contracted. If a recipient would like to place an order for a replacement part or accessory, please keep in mind orders may take up to 2 weeks to process and ship, so please plan ahead.
†Cochlear is currently enrolled with Medicaid programs in the following states: AZ, CA, CO, CT, DC, DE, FL, GA, IA, ID, IL, IN, KS, KY, LA, MD, ME, MI, MN, MS, MT, NC, NE, NJ, NM, NV, NY, OH, OK, OR, PA, SC, SD, TN, TX, UT, VA, VT, WA, WI, WV, and WY.
Information for patients:
Please keep in mind that if you choose to self-pay for an item generally covered by insurance, you may not be able to submit a claim on your own if Cochlear is contracted with your private insurance provider. Visit www.Cochlear.com/US/InsuranceList to see if Cochlear is contracted with your insurance provider. If Cochlear is contracted with your insurance provider, we suggest placing your order through Cochlear's Reimbursement and Insurance Services. If you seek reimbursement on your own you will be solely responsible for any amounts to include contractual or discounted payments that your insurance provider does not cover.
Information provided by Cochlear Americas regarding insurance coverage or reimbursement is provided as guidance only and is not intended as reimbursement or legal advice. Cochlear Americas makes no representation or warranty regarding such information or its completeness, accuracy, fitness for a particular purpose, or that following such guidance will result in any form of coverage or reimbursement from any insurer. Information presented is subject to change at any time. To be sure that you have the most current and applicable information available for your unique circumstances, please consult your own experts and seek your own legal advice regarding your reimbursement needs. In all cases, products or services billed must be medically necessary, actually performed and appropriately documented in the medical record. You will be responsible for paying any applicable coinsurance, deductible, or amounts not covered by your insurance to Cochlear. Coverage determinations and out-of-pocket costs may vary for individuals with private insurance.