Kathleen, a cochlear implant recipient, could never imagine a world without music. "It's a big part of who I am," says the mother of three from New Mexico, who was born with profound hearing loss.
After wearing hearing aids for years, the devices stopped being a viable option. Kathleen received her first cochlear implant in 2010 at the age of 44 and went bilateral in 2011.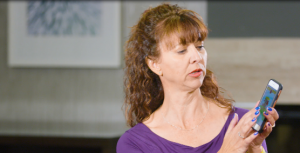 But despite taking active steps for years to connect with music, her experience had been limited to two genres, traditional rock'n'roll and some basic country, because of her difficulties with pitch perception. That has all changed since Kathleen started using Bring Back the Beat, a free smart phone app developed for recipients to help them reconnect with music.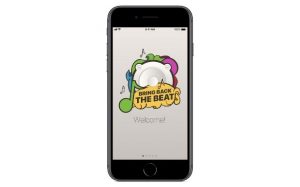 "It's an amazing app that has allowed me to practice my pitch perception, melodies and different areas that I could never have done on my own," Kathleen explains. The interactive app uses gaming to bring to life five different activities centered around pitch and music perception. The activities start with simple notes and instruments and build to more complex melodies and musical activities. You can equip your patient today with the tools to help them reconstruct their world of music.
In this short video, hear Kathleen talk about how Bring Back the Beat has expanded her musical horizons.
We're committed to creating the resources you need to help your patients with hearing therapy and music appreciation. Do you have patients who want to reconnect to music? Encourage them to download the app!
Download now from Apple® App Store or on Google Play!
Apple, the Apple logo, FaceTime, Made for iPad logo, Made for iPhone logo, Made for iPod logo, iPhone, iPad Pro, iPad Air, iPad mini, iPad and iPod touch are trademarks of Apple Inc., registered in the U.S. and other countries. App Store is a service mark of Apple Inc., registered in the U.S. and other countries.
Android is a trademark of Google LLC. The Android robot is reproduced or modified from work created and shared by Google and used according to terms described in the Creative Commons 3.0 Attribution License. Google Play and the Google Play logo are trademarks of Google LLC.