Maximizing 2023 insurance benefits
We're past the half-year mark—it's a great time for eligible patients to consider using their 2023 insurance benefits to upgrade their Cochlear sound processor. Our newest technologies, the Cochlear™ Nucleus® 8, Kanso® 2 and the Baha® 6 Max Sound Processors are designed with your patients' needs in mind.
Cochlear will be reaching out to recipients who have been in their current sound processor technology for more than five years, one of the main criteria for determining eligibility for an upgrade through insurance, and who have provided consent for communications from Cochlear.
Encourage your patients and their caregivers to plan ahead if they want to use their 2023 insurance benefits. The insurance approval process can take 6-8 weeks and benefit qualification by the patient's insurance company is dependent on when the order is shipped from Cochlear, not when the order is placed. Insurance companies require upgrade order claim submissions in 2023 to ship by the end of the calendar year, and the last day that Cochlear will be shipping orders is December 29, 2023. We recommend placing replacement sound processor orders no later than October 31, 2023. †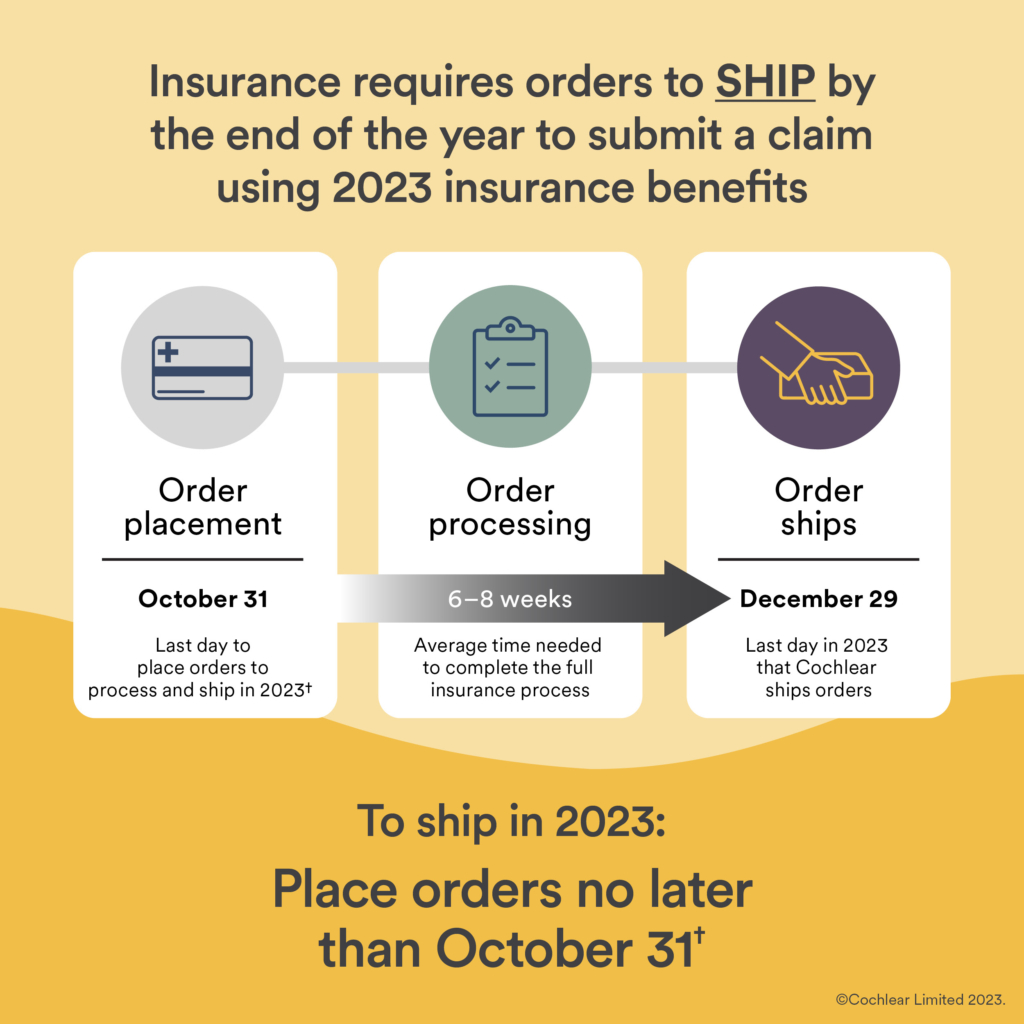 We know that patients will reach out to you for help in this process. Cochlear is here to help you both.
Eligibility
The first step is to determine if your patient might be eligible for a sound processor upgrade. Did you know you can use Custom Sound Pro to identify if your CI patient has been using their sound processor for five years or more, which is one of the main criteria for determining eligibility?
Order Placement
If your patient is ready to place an order and does not need pre-upgrade counselling, they can:
Log into their Cochlear account and place an order via the online Cochlear Store, which is recommended for patients who are active users of the Nucleus Smart App.* Orders can be billed to insurance.
Call Cochlear at 1-800-523-5798
Pre-Upgrade Counselling
If your patient has been in their sound processor for five years and would like to speak with a specialized upgrade expert to learn more about eligibility, what sound processor is optimal for them, the upgrade process and potential costs, or benefits of new technology, they can schedule an Upgrade Consultation using the region-specific booking link. This link can be provided by your local Cochlear representative. Once on the booking page, choose "Upgrade Consultation Booking". Cochlear will keep you informed via a Clinic Patient Report for patients that use this service and provide consent.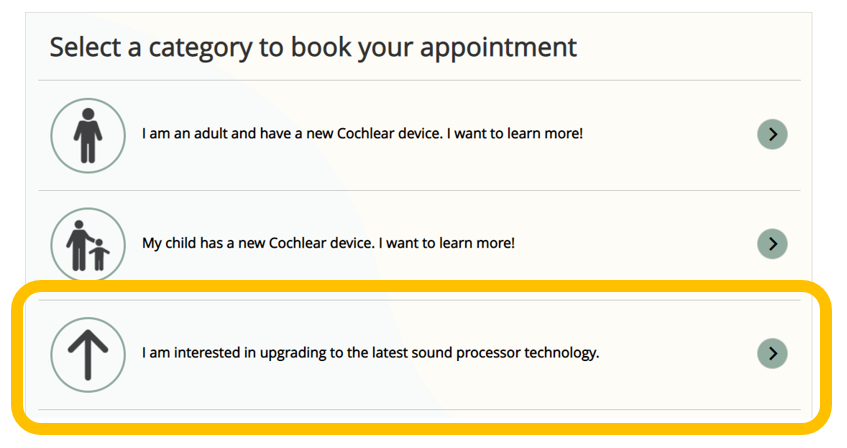 New CI Upgrade Resources for Professionals
To help make upgrading a Nucleus Sound Processor as seamless as possible for you and your patients along each phase of the upgrade journey, Cochlear created new resources and support about upgrades for professionals, including a detailed protocol.

Programming Upgrades for CI and Baha
Ready-to-Wear (RTW) for Nucleus Sound Processor upgrades
RTW is free of charge and allows your patients to begin wearing their device immediately without a separate trip to the clinic.+
Remote Assist for Baha 6 Max Sound Processors
Audiologists can program new sound processors remotely using Remote Assist. For more information about our Connected Care resources, visit our webpage.
Cochlear is here to help you and your patients navigate the sound processor upgrade process.
†Orders placed on or before October 31, 2023 are not guaranteed to be approved by an insurer or shipped on or before December 29, 2023, the last available shipping date to meet the insurance deadline. Placing an order through Cochlear's Reimbursement and Insurance Services does not imply approval from an insurance carrier.
* The Cochlear Nucleus Smart App is available on App Store and Google Play. For compatibility information visit www.cochlear.com/compatibility
+ To participate, recipient must be age 5 years or older. The Ready-to-Wear service is not available for hybrid externals, Kanso to Nucleus 8 Sound Processor upgrades and certain implant types. For clinics utilizing Cochlear™ Link, you can review and adjust your Accepted Map Age (AMA). Patients requesting Ready-to-Wear service with their upgrade will automatically receive the service if it falls within the AMA. For clinics who do not use Cochlear™ Link, or for patients with a MAP that exceeds the AMA, you will be receive notification within myCochlear Professional to approve a RTW request. For more information on Cochlear™ Link or to update your clinic's AMA please contact CochlearLink@cochlear.com Upgrading bimodal ReSound patients: for recipients with a compatible ReSound hearing aid# to take advantage of smart bimodal streaming, they will need to visit their clinician to have the hearing aid and sound processor re-linked.
1. Information provided by Cochlear Americas regarding insurance coverage or reimbursement is provided as guidance only and is not intended as reimbursement or legal advice. Cochlear Americas makes no representation or warranty regarding such information or its completeness, accuracy, fitness for a particular purpose, or that following such guidance will result in any form of coverage or reimbursement from any insurer. Information presented is subject to change at any time. To be sure that you have the most current and applicable information available for your unique circumstances, please consult your own experts and seek your own legal advice regarding your reimbursement needs. In all cases, products or services billed must be medically necessary, actually performed and appropriately documented in the medical record.
2. As of Feb 1, 2018, Cochlear provides direct insurance billing support for many major private insurance plans, Medicare, Medicaid† (including HMOs) and Tricare for repairs, parts and accessories. Cochlear's full-service billing support is available for recipients who are covered under one of the plans with whom Cochlear is contracted. If you would like to place an order for a replacement part or accessory, please keep in mind orders may take up to 2 weeks to process and ship, so please plan ahead.
‡ Cochlear is currently enrolled with Medicaid programs in the following states: AZ, AL, CA, CO, CT, DC, DE, FL, GA, IA, ID, IL, IN, KS, KY, LA, MD, ME, MI, MN, MS, MT, NC, ND, NE, NJ, NM, NV, NY, OH, OK, OR, PA, SC, SD, TN, TX, UT, VA, VT, WA, WI, WV, and WY.
The Nucleus 8 Sound Processor is compatible with all implants except Nucleus 22 Implants.
The Kanso 2 Sound Processor is compatible with the Nucleus Profile Plus, Nucleus Profile Series, CI500 Series, CI24RE (Freedom) Series, CI24R and CI24M implants. The Kanso 2 Sound Processor will not be compatible with the Nucleus® 22 (N22) Implant due to the Kanso 2 Sound Processor's size and coil type.