By Wade Colburn, Product Manager – Cochlear Implants
Cochlear is committed to the quality of our products and how these products advance hearing performance and quality of life for those affected by hearing loss. With a long-standing track record of reliable implants and durable sound processors2,we focus on delivering quality hearing solutions to meet patient needs.
Since 1982 when Rod Saunders became the first recipient of the Nucleus cochlear implant system3, Cochlear has concentrated on implant and sound processor innovations. Here's a glimpse of these innovations over time: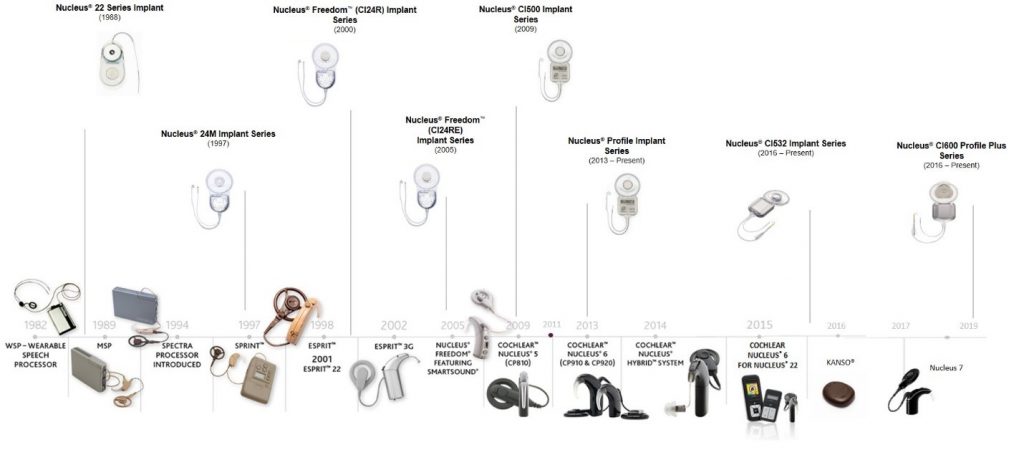 Implant Innovations:
Over the years, implants have improved in many ways, with notable innovations including:
Creation of a wide range of electrode variants for varying patient anatomy including the development of perimodiolar electrode arrays with proven performance benefits4,5,6
Development of thin and discreet implants reducing the need to drill and improving patient aesthetics
Design of an implant with a removable magnet with access to MRI for over 20 years*
Enhancement of the design elements and shape to reduce biofilm formation
However, while innovation has been a key focus area, the reliability of the implant over time remains one of the most important features of the Nucleus implant. But this is nothing new for Cochlear – as those implanted in 1988 with our original implant technology are still able to benefit from our current sound processor offerings and innovations. Yet our commitment to quality means we will continue working to improve the lifespan of each implant generation . We have strived to improve the lifespan of each implant generation so that someone that was implanted in 1988 can still benefit from that original implant technology paired with today's sound processors.
Processor Innovations:
Sound processor technology has also been transformed over time. Key innovations of Cochlear sound processors include:
Automaticity enhanced sound processing, driving hearing improvement with scene classification and microphone directionality 7
Transitioning from body-worn sound processors to the smallest behind-the-ear and off-the-ear sound processors8
Chip technologies driving improvement in battery life9, targeted for all-day hearing in a connected world.
Direct connectivity of processor to iPhone® and Android™ phones10
Datalogs to drive evidence-based clinical decision making
Empowerment of patients to monitor and control their device between appointments with the Nucleus Smart App on their smartphone
Processors that are water resistant with adventure-proof accessories for hearing whether wet, dry or in between.±
Quite remarkably, Cochlear has designed solutions that make living with a cochlear implant easier, while still maintaining a durable, quality product. The creation of smaller, smarter and more efficient sound processors has allowed Cochlear to push the cochlear implant industry into a new era. Cochlear promises high quality upgrades that impact performance and lifestyle through backwards compatibility availability.
As the most implanted cochlear implant system with over 395,000 registered systems worldwide2, Cochlear has driven the industry forward with innovations without sacrificing quality.
Historically in the cochlear implant industry, quality has primarily only been measured as implant reliability and all other assessments of quality have been subjective. Reliability reporting has historically been reported based on the European Consensus Statement, but not all manufacturers maintained compliance.
Cochlear is now excited to also report in compliance with a new standard for the cochlear implant industry – ANSI/AAMI CI86: 2017 Cochlear implant systems: requirements for safety, functional verification, labeling and reliability reporting. In accordance with this standard, quality of both implants and processors can be assessed.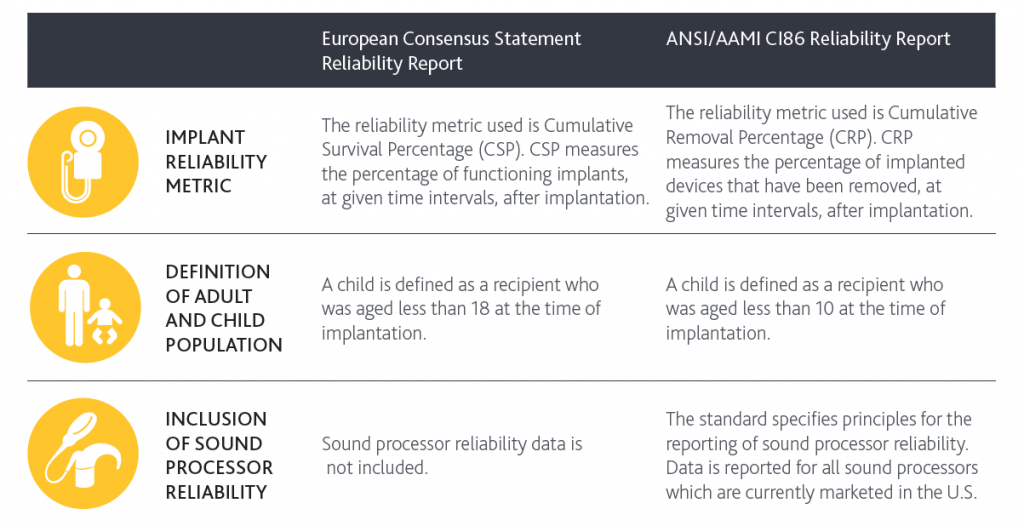 For implants, our new reporting measurement will be reported as the Cumulative Removal Percentage (CRP). This new measurement will look at all implants that have been removed for any reason, including infection. The Profile series, with over 70,000 devices implanted, has a CRP of 1.21%, meaning that 98.79% of implants remain working within 5 years.
For the first time ever, processor reliability is being reported as Failed Component Return Rate (FCRR), which is a percentage calculated by comparing the number of faulty processors returned within a month compared to the cumulative sales of the sound processor over a period of up to 24 months. For Nucleus 7, the average FCRR is .2% over 16 months compared to Nucleus 6, with an average FCRR of .8% average over 24 months.
Check out this example of how the FCRR is calculated (not real numbers):

To learn more about reliability reporting and download our latest reliability report in compliance with ANSI/AAMI CI86. For more information on the difference between the European Consensus Report and ANSI/AAMI CI86, click here.
About the author: Wade is the Product Manager for Cochlear Implant product portfolio within Cochlear Americas. Wade's responsibilities include product positioning and messaging, life-cycle management, new product launches and surgical support and training. Wade has recently joined Cochlear, but comes from an engineering background with the medical device field, including previous otology experience.
*Cochlear has had MRI access dating back to 1997. With removal of the magnets, Freedom and Profile series implants are approved for 1.5T and 3.0T MRI's. The latest implant generation, Profile Plus, allows for 1.5 T and 3.0 T without magnet removal or compression.
±The Nucleus 7 Sound Processor with Aqua+ is water resistant to level IP68 of the International Standard IEC60529. This water protection rating means that the sound processor with the Aqua+ can be continuously submerged under water to a depth of 3 m (9 ft and 9 in) for up to 2 hours. This water protection only applies when you use a Cochlear Standard Rechargeable Battery Module or Cochlear Compact Rechargeable Battery Module.
References:
D1593476. Cochlear Nucleus Implant Reliability Report. Volume 17. December 2018.
D1599672. Cochlear Nucleus Reliability Report (Reporting to ANSI/AAMI CI86 Standard). Volume 1. September 2019.
Hughes, ML, Abbas, PJ. Electrophysiological channel interaction, electrode pitch ranking, and behavioral threshold in straight versus perimodiolar cochlear implant electrode arrays. J Acoustic Soc Am. 2006; 119(3):1538-47.
Cohen L., Richardson L., Saunders E., Cowan R. Spatial spread of neural excitation in cochlear implant recipients: comparison of improved ECAP method and psychophysical forward masking. Hearing Research. 2003; 179 (1-2):72-87.
Holden LK, Finley CC, Firszt JB, Holden TA, Brenner C, Potts LG, et al. Factors affecting open-set word recognition in adults with cochlear implants. Ear Hear. 2013; 34(3):342-60
Cochlear Limited. D1296247. CLTD 5620 Clinical Evaluation of Nucleus 7 Cochlear Implant System. 2017, Sept; Data on file
Cochlear Limited. D1190805. CP1000 Processor Size Comparison. 2019, Apr; Data on file
Cochlear Limited. D1140877. Battery Life and Power Consumption Comparison between CP1000, CP900 Series and CP810 Sound Processors. 2017, Sept; Data on file.
Compatibility can be found here: hhtp://www.cochlear.com/compatibility
The Cochlear Nucleus 7 Sound Processor is compatible with iPhone, iPad and iPod touch. Apple, the Apple logo, FaceTime, Made for iPad logo, Made for iPhone logo, Made for iPod logo, iPhone, iPad Pro, iPad Air, iPad mini, iPad and iPod touch are trademarks of Apple Inc., registered in the U.S. and other countries.
App Store is a service mark of Apple Inc., registered in the U.S. and other countries.
Android and Google Play are registered trademarks of Google Inc. The Android robot is reproduced or modified from work created and shared by Google and used according to terms described in the Creative Commons 3.0 Attribution License.
The Cochlear Nucleus Smart App is available on App Store and Google Play. For complete smartphone compatibility information, please visit www.cochlear.com/compatibility.