By Regina Presley, AuD, FAAA, CCC-A, Director of Audiology at the Presbyterian Board of Governors Cochlear Implant Center of Excellence at Greater Baltimore Medical Center (GBMC)
Marketing, for our practice, is truly about educating a variety of audiences including the general public, existing patients, professionals and payers. Often colleagues will ask me, "How do I get started?". The task can feel overwhelming especially if you have multiple identified initiatives or marketing is new to you. The key is to prioritize your attainable goals, work to meet the first initiative, learn from that experience and then strategically tackle the second item on your list.
Be sure to explore how your goal(s) may meet larger goals within your department and/or possibly align with your organization. As you develop a marketing initiative, it is important to not only determine a specific goal(s) but to identify your audience(s), obtain staff/team buy-in through education and communication, identify and engage stakeholders, prioritize your needs, and determine cost(s), if any, for your initiative. Sustainability should be the foundation of each initiative.
Once your goals have been established, determine how they will be measured and the appropriate metrics to capture important information throughout implementation as well as the completion of the campaign. Create a timeline for phases of the initiative as well as completion and monitor through the life of the initiative. Be sure to celebrate success and learning opportunities throughout the implementation of the initiative! The data obtained within this tracking will be instrumental in your learning experience and improvement of initiatives moving forward.
As you develop your plan, here are some marketing considerations to help reach your goals.
Social media use:
Over the years, our marketing approach has changed. According to Statista, 2020, there are 3.78 billion social media users worldwide. This is a 32% increase when compared to 2017. It is no wonder that our focus on education utilizes more social media then previously. Our center is active on a variety of social media platforms including Facebook, Instagram, LinkedIn and Twitter. Our social media presence takes on many forms such as Facebook Live interviews with real time audience participation, posting links of TV appearances or podcast recordings on all social media platforms and an online hospital newsletter that is linked to social media.
Our content varies from a short post or video to a highlight of a linked 30-minute live event. We communicate the importance of our social media initially when meeting with candidates and encourage their participation throughout their candidacy, activation and ongoing implant journey. We connect to the larger hospital page which helps reach thousands of individuals within our community. Lastly, we always link our posts to our page and the pages of stakeholders to ensure support, share additional education and increase the number of followers.
Explore television opportunities:
We utilize our media marketing team to help promote news releases as well as upcoming events. If you do not have a marketing team, you can also share press releases and ideas with your local television stations via the assignment editor. Be sure to connect with the morning and weekend news programs who are typically looking for ideas. It's important to understand that television appearances and availability may change quickly depending upon what is occurring in the world around us. This will require flexibility. It's key to have a concise message, delivering it in a friendly, knowledgeable manner. Television spots tend to be only 3-4 minutes in length so practice your message in advance. Here are some suggestions regarding the types of stories you could pitch:
Focus on your health – January
World Hearing Day – March – Safe listening for all ages
Better Speech and Hearing Month – May
Back to school – August– Recognizing hearing loss in children
Gift of sound – December
Make the connection with other co-morbidities during heart health or diabetes months, for example
Highlight advances in technology
Discuss upcoming public events
Remarkable patient stories are always well received
Make important connections:
We have all heard the saying, "it takes a village" and this certainly applies to our marketing initiatives. We can be more effective if we do not work in a silo. Community collaboration has created a greater impact and a larger reach than any one center can do in isolation. Whether it requires you to reach out to stakeholders to help create and track your initiative or to develop a multi-disciplinary approach to your initiative, you will have greater success through enlisting additional experts.
Here are just a few examples for consideration:
Consumer events – Can include other disciplines, colleagues or industry. Be sure to cross promote via social media.
Participate in ground rounds for PCP and ENT meetings.
Interdisciplinary approach – Primary care, diabetes center, neurology, etc. – Education is key not only for potential patients but for professionals as well
Work alongside insurance experts – Write for payer or physician newsletters.
Create educational materials for multidisciplinary teams to share within their practices.
Look for and participate in philanthropic events/campaigns.
Participate with local universities as a guest lecturer or have students join in unique opportunities at your facility in addition to supervising students.
Instill great relationships with your electronic medical records team – They are so valuable as you work to improve your practice efficiency, communicating effectively with patients and improving the flow of referrals.
Host continuing education events to increase knowledge and improve referral stream.
As you can see, numerous marketing opportunities await each of us. If we all do our part, we can move the needle toward increased awareness and access to quality hearing health care for all.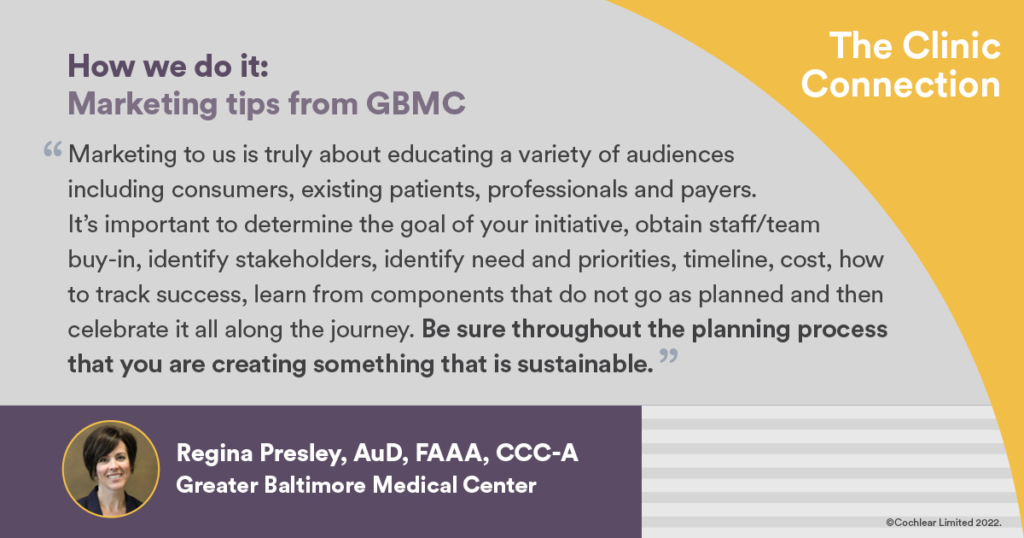 Hear more from Dr. Presley here or check out Cochlear's media center to get started.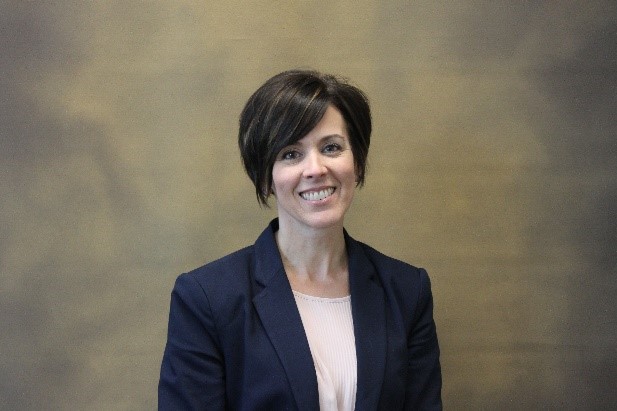 Dr. Presley has served as an audiologist for 30 years within a pediatric hospital, private ENT practice, and the last 20 years, in the field of cochlear implantation. She is currently the Director of Audiology at the Presbyterian Board of Governors Cochlear Implant Center of Excellence at GBMC. In addition to clinical responsibilities, she is responsible for the direction of the CI team and administrative duties as well as for consumer and professional outreach to help patients and colleagues remain current on the latest cochlear implant candidacy criteria and technology. Research has been geared toward quality of life, effective uses of innovative tools, use of artificial intelligence, and the development of a new standard of care clinical model.