Hear from Dr. Hunter on the latest publication: Identifying Disadvantaged Groups for Cochlear Implantation: Demographics from a Large Cochlear Implant Program: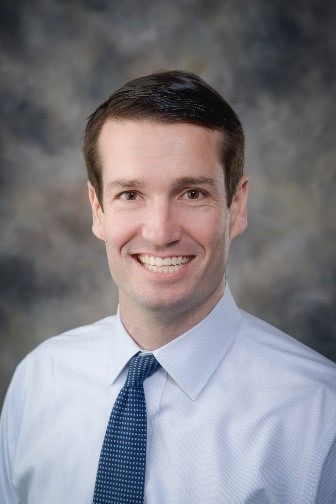 What led your team to perform this retrospective analysis?
The initial motivation was the desire to build our adult cochlear implant database. Our former Neurotology fellow, Dr. Anthony Tolisano, who is now on staff at Walter Reed National Military Medical Center, and I, started building the database several years ago, with great assistance from one of our medical students at the time, Natalie Schauwecker, who is now a PGY-2 Otolaryngology resident at Vanderbilt University. The impetus that led us to explore and ultimately publish our data was that most patients in the database were White, highlighting to us that our practice probably does not represent the entire community we desire to serve.
What insights from this study were the most compelling to you and your team? Were there any insights that surprised you?
The two most significant insights were that patients who racially self-identified as non-White were more likely to qualify for a cochlear implant, but were less likely to pursue surgery, as compared to White patients. We interpreted this to mean that non-White patients were referred for a cochlear implant evaluation further along in their hearing loss journey since their hearing loss was more substantial.
Further, as a group, while we routinely leave it up to the patient and their family to decide whether to pursue implantation if they qualify, there clearly are variables at play that lead non-White patients not to pursue surgery, arguably in a population who have a greater need for implantation in relation to the comparison group. We cannot exactly control our referrals, but recognizing differences are present in those that pursue implantation, the greater surprise was that we as a cochlear implant center were not addressing those differences. Granted, we did not recognize that those differences existed before we conducted the analysis, but as a health care practitioner, and a cochlear implant center, we wish we didn't have those differences.
Based on these findings, how do patient demographics play a role in the referral process?
In reference to the specific referral process, patient demographics do not play a role. If a patient needs a cochlear implant evaluation, we are happy to provide that to the patient and referring provider, recognizing before we meet the patient, and potentially even after, we cannot speak to the exact motivation of the patient, family, and referring provider for pursuing the evaluation. We are not the patient or the family. But, speaking for myself, I feel it is our job and expectation to provide as much information to the patient and their family about their hearing loss journey, making sure they understand their rehabilitative options, including cochlear implantation for some patients, which includes a discussion of the surgery, rehabilitative process, and anticipated outcomes. Patient age, gender, race, or residence does not alter my counseling, but I can appreciate that different patients' opinions may interpret my counseling differently.
As a team at a large university hospital system, have these findings changed your adult care model? If so, how?
Currently, these findings have not directly changed the model. While some cochlear implant referrals originate in our system, most are generated externally. I believe most practitioners in our practice referring patients for cochlear implant evaluations are aware of the data, though I do not know if the findings have influenced them, and I cannot speak for community referrals. Whether our approach in counseling about surgery has changed since learning of this data, and or led to any changes, I do not know. But on the other hand, as healthcare providers, this data has enabled us to reflect internally to try to be more inclusive and open-minded, despite our impressions previously.
Your study mentions 3 areas for identifying healthcare disparities, one of which classified as indication detection. How does your team support referring professionals to ensure timely referrals and intervention?
I think this is something we can always continue to improve upon. We do not have the resources to support a cochlear implant team coordinator currently, but rely on individual relationships between the cochlear implant surgeon and audiologist and referring providers, whether that be otolaryngologists, audiologists, or any other hearing healthcare provider. Timely referrals are contingent upon a number of factors, but we encourage anyone to contact us directly to help facilitate them.
Any key takeaways that professionals should know?
This dataset and findings only reinforced the original need to step back and look at our practice from a different perspective. I think it is a valuable experience for personal development, but also for practice development, and I would encourage others to explore whether their practice is serving their own interests, as well as their community's.
To learn more about cochlear implants as a standard of care please visit this website.
Citation:
Tolisano AM, Schauwecker N, Baumgart B, Whitson J, Kutz JW Jr, Isaacson B, Hunter JB. Identifying Disadvantaged Groups for Cochlear Implantation: Demographics from a Large Cochlear Implant Program. Ann Otol Rhinol Laryngol. 2020 Apr;129(4):347-354. doi: 10.1177/0003489419888232. Epub 2019 Nov 18. PMID: 31735055.
About the author:
Jacob Hunter is the Dedman Scholar of Clinical Care and Associate Professor in the Department of Otolaryngology-Head and Neck Surgery at the University of Texas Southwestern Medical Center. He is board-certified in Otolaryngology, with sub-specialty certification in Neurotology, having completed his residency at Albert Einstein College of Medicine in the Bronx, New York, and fellowship at Vanderbilt University in Nashville, Tennessee. His research focuses on hearing loss, cochlear implants, and vestibular schwannomas, having been awarded funding to explore the links between hearing loss, social isolation, and cognitive decline. He has published over 80 peer-reviewed manuscripts and contributed to over 10 book chapters. He is currently an Associate Editor, Otology and Neurotology for Otolaryngology-Head and Neck Surgery, published by the American Academy of Otolaryngology-Head and Neck Surgery Foundation, while serving on the editorial board for Otology & Neurotology and Otolaryngology Case Reports.