By Michelle Kraskin, AuD
Given the unfamiliar nature of the current COVID-19 pandemic, professionals have been forced to rethink how to handle patient care when confronted with limitations of face-to-face contact. Our center has continued to maintain our "patient first" philosophy with the use of customized tele-visits based on individual needs.
Virtual pivot
Through the use of our online system, we have been utilizing video visits to see patients. Many of our existing Baha® and Nucleus® cochlear implants recipients have reached out to us for assistance with current device settings, troubleshooting inquiries or with aesthetic/positioning questions.
By adopting tele-visits, we can walk the patients through step-by-step troubleshooting actions regarding their device(s). For example, I recently used a tele-visit to support the parent of a 4-year-old bilateral cochlear implant recipient who noticed her son wasn't as responsive as he typically had been. I instructed her to hold the processor close to the screen for me to look at the microphone covers. I immediately noticed they needed to be changed! Further, I instructed her how to "test" the microphones using her Nucleus Smart App and provided her with the respective online resources.
For a separate patient, I programmed a clinic stock Baha 5 Sound Processor and Softband for a newly diagnosed infant with unilateral microtia atresia and mailed the items directly to the family. Cochlear's robust recipient education and support materials such as instructional videos, links and smart app made this a viable option. Prior to the actual video visit with the family I sent a "cheat sheet" with all key items to aid the conversation. I look forward to dispensing more bone conduction systems during the stay-at-home period and employing the Baha Lend an Ear Program.
Relying on resources
My clinic department is still functioning, albeit some areas remotely, and able to process insurance approvals and upgrade requests alongside Cochlear's Reimbursement and Insurance Services. The secure portal, myCochlear™ Clinic, allows me to upload the upgrade forms and email these over to the patients' parents to complete.
Continuing a patient story, I received approval from my department and placed an order with ProCare. Luckily, we use Cochlear Link and this child's new Nucleus 7 Sound Processors were shipped directly to the home, pre-programmed with the MAPs the Cochlear team had converted for me. The patient is scheduled for an upcoming video visit where I will dispense his upgraded devices.
The tools and resources Cochlear provides, along with some creativity, has made for what some would view as a challenge, less challenging. The ability to continue to serve patients even without being physically present has been so rewarding, particularly in the current heightened global climate. The look in the parents' eyes when their baby heard from the Baha for the first time and another child's expression when he could hear his teachers directly into his processor are memories I choose to take away from this professional learning opportunity.
To learn more about available remote resources, subscribe to Cochlear ProNews.
About the author: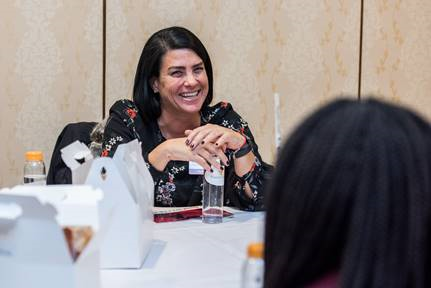 Dr. Michelle Kraskin, an Assistant Director of Audiology at Weill Cornell Medicine received her Doctor of Audiology (Au.D.) degree at the Graduate Center of the City University of New York. She obtained her Bachelor of Arts degree from the State University of Stonybrook and her Masters of Science in Communications Science from Hunter College, City University of New York. Dr. Kraskin is licensed in Audiology through the New York State Department of Education and holds the Certificate of Clinical Competence in Audiology (CCC-A) from the American Speech Language Hearing Association (ASHA). She maintains membership in ASHA. 
Dr. Kraskin has been affiliated with New York-Presbyterian Hospital/Weill Cornell Medicine since 2003. She is responsible for the coordination of the day-to-day activities for audiology and speech and for infant screening services as part of the Hearing and Speech Department. Her clinical expertise is in the area of pediatric assessment of hearing including audiometry, auditory brainstem response (ABR), otoacoustic emissions (OAE) testing, hearing aids and cochlear implantation.
The Cochlear Nucleus Smart App is available on App Store and Google Play. For complete smartphone compatibility information, please visit www.cochlear.com/compatibility.