By Amy Donaldson, Professional Education Manager
Your patients now have the freedom to focus on what matters – connecting with others.
Incorporated as a standard feature on the Nucleus® 7, ForwardFocus* is a revolutionary setting that goes beyond the state-of-the art scene analysis and adaptive directional microphones of SmartSound iQ® and allows users to enable maximum focus on what matters most to them. It is specially designed for the most challenging listening environments, such as listening to speech in a busy restaurant.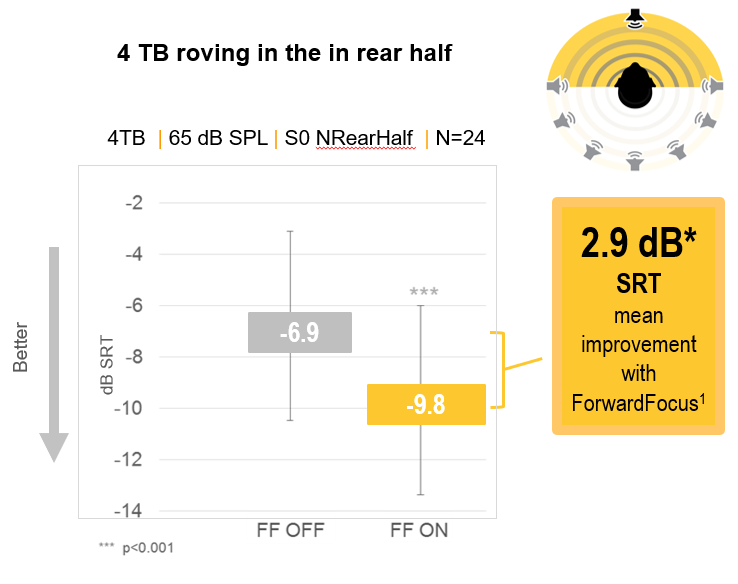 ForwardFocus is intelligently designed to attenuate distracting noise from behind the listener, making it easier to enjoy face-to-face conversation and maximizing understanding of speech from the front.¹ It differs from the automated directionality in SmartSoundiQ by providing a more focused listening experience. In an internal study using roving background noise, an average improvement of 2.9 dB was seen for speech recognition thresholds in noise over the default SCAN** program.1 In that same study, 88% of Nucleus 7 recipients recommended ForwardFocus for use in cafes and restaurants.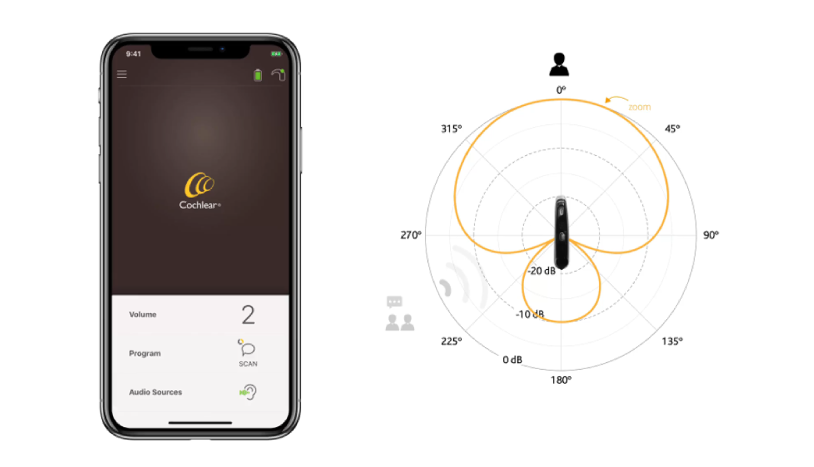 Evidence supporting the use of ForwardFocus in challenging listening environments is emerging beyond Cochlear's internal studies. A recent study from Germany compared ForwardFocus to BEAM (the directional microphone utilized within SmartSound iQ).2 A significant improvement of 5.8 dB was seen using the ForwardFocus program in 3-talker babble (noise presented from fixed positions of 90°, 180° and 270°), bringing performance closer to normal than with BEAM.
Using ForwardFocus, recipients demonstrated statistically significant improvement in both conditions of spatially separated noise.1 This can result in an improved and controlled listening experience as rear-facing noise is reduced.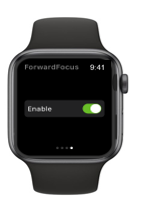 ForwardFocus must be enabled in Custom Sound fitting software before it can be used by the recipient. This is because in certain situations (for example, if the recipient needs to hear sound from behind), ForwardFocus is not the best option. Recipients must be instructed on the use of ForwardFocus and should be able to manually enable and disable this feature, something made even easier with the introduction of the Nucleus Smart App for Apple Watch®. This new feature allows for convenience control at their fingertips with a discreet tap. Patients can change programs, see battery status, adjust volume and select audio source, making it easier to use than ever before!
For more information about using ForwardFocus with your patients, please consult the ForwardFocus Clinician Quick Guide.
Encourage your patients to download the Nucleus Smart App now from Apple® App Store or on Google Play!
About the author: Amy Donaldson is an Audiologist and Professional Education Manager for Cochlear Americas. She received her Master's Degree in Audiology from the State University of New York at Buffalo and her AuD from the University of Florida. She was privileged to begin her career as a pediatric audiologist and gain extensive clinical experience in implantable hearing devices at the University of Michigan in Ann Arbor and at the Manchester Cochlear Implant Programme in the United Kingdom. After working for several years as an Educational Audiologist and Technical Support Audiologist in the hearing aid industry, she returned to hearing implants and Cochlear in 2011.
References
Cochlear Limited. D1376556.CLTD5709 Acceptance and Performance with the Nucleus 7 Cochlear Implant System with Adult Recipients. 2018 Jan; data on file.
Hey M, Hocke T, Böhnke B, Mauger SJ (2019) ForwardFocus with cochlear implant recipients in spatially separated and fluctuating competing signals – Introduction of a reference metric. Int J Audiol, 57(2).
*ForwardFocus can only be enabled by a hearing implant specialist. It should only be activated for users 12 years and older who are able to reliably provide feedback on sound quality and understand how to use the feature when moving to different or changing environments. It may be possible to have decreased speech understanding when using ForwardFocus in a quiet environment.
**SNR-NR, WNR and SCAN are approved for use with any recipient ages 6 years and older who is able to 1) complete objective speech perception testing in quiet and in noise in order to determine and document performance 2) report a preference for different program settings.
The Cochlear Nucleus Smart App is available on App Store and Google Play. For compatibility information visit www.cochlear.com/compatibility
The Cochlear Nucleus 7 Sound Processor is compatible with iPhone, iPad and iPod touch. Apple, the Apple logo, FaceTime, Made for iPad logo, Made for iPhone logo, Made for iPod logo, iPhone, iPad Pro, iPad Air, iPad mini, iPad and iPod touch are trademarks of Apple Inc., registered in the U.S. and other countries.
App Store is a service mark of Apple Inc., registered in the U.S. and other countries.
Android is a trademark of Google LLC. The Android robot is reproduced or modified from work created and shared by Google and used according to terms described in the Creative Commons 3.0 Attribution License.
Google Play and the Google Play logo are trademarks of Google LLC.