Updated February 2022
By Wendy Potts, Product Manager for Software & Connected Care at Cochlear Americas
Several new features and improvements make Baha® Fitting Software 6.0 simple to navigate, streamlined for efficiency in programming, more secure and customized with more options for your patients.
Baha Fitting Software (BFS) 6.0 features include:
Enhanced workflows to simplify fittings
Several useful new fitting workflows are available to guide you through all the necessary steps to fit your patient's Baha 6 Max Sound Processor. Information about the different workflows is available in the Activity Selection screen (Fig 1). The connection flow and recommended steps will differ depending on the activity chosen.
You can navigate through the workflows using the "Next" and "Previous" buttons at the bottom of the screen. The "Detailed fit" top menu is always available if preferred or if additional steps to the workflow are needed to complete the fitting. Because the workflows are customized per activity to simplify and streamline your programming session, activity selection replaces "Express fit."
The new activities to highlight include the fitting activities (first fit, follow-up, upgrade and unilateral-to-bilateral) and the Demo fitting. Please take a look at the descriptions of each for more information.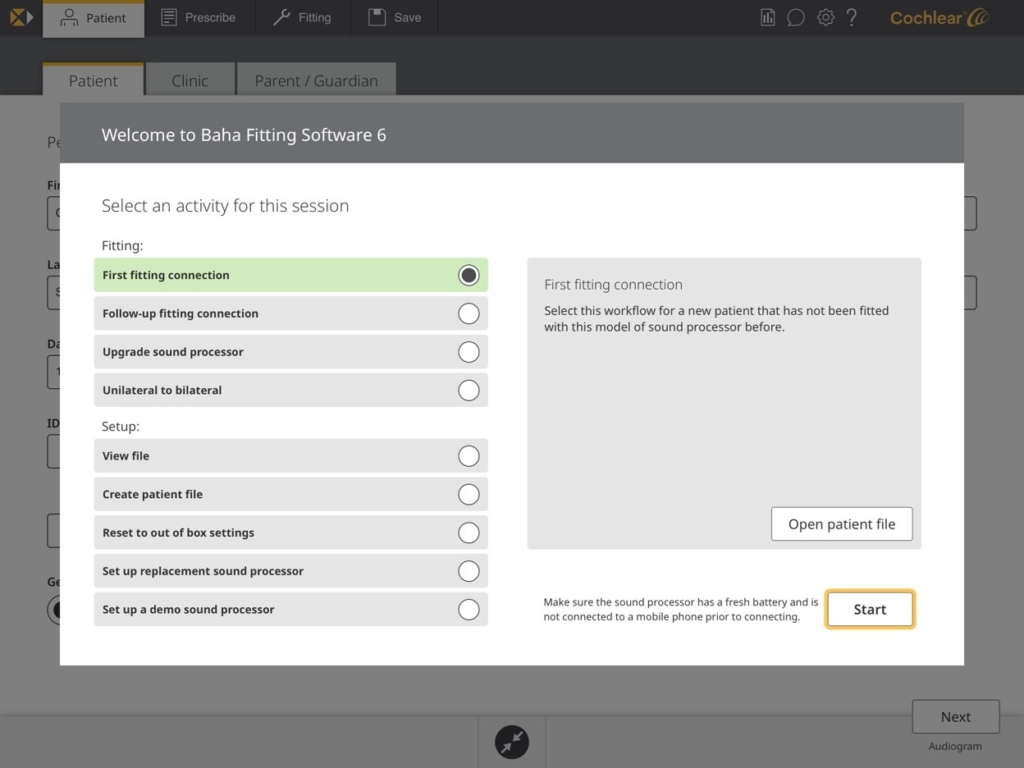 Figure 1
Fitting activities:
First fitting connection will guide you through all necessary steps to fit a new sound processor to a patient. Use this when fitting a patient the first time with their new processor.
Follow-up fitting connection is designed for those quick adjustments during follow-up visits. This is a simplified connection flow that will send you directly to the adjustment screen to perform adjustments to the sound processor.
Upgrade sound processor will guide you through the necessary steps to upgrade a patient to Baha 6 Max Sound Processor. To speed up the process, the patient information, BC Select and audiogram data can be read and applied from a previous Baha 5 series file.
Unilateral to bilateral simplifies the experience when your patient becomes a bilateral recipient.
Set up activities:
View file allows you to view a patient file without connecting a sound processor.
Create a patient file allows you to prepare a patient file and save prior to a fitting session. Simply select "Open patient file" in the Activity Selection screen (Fig 1) to access the prepared file and then follow the workflow for the activity selected.
Reset to out of box settings removes all patient data from the sound processor and reset the gain and features to out of box settings.
Set up replacement sound processor guides you through setting up a replacement device to a patient.
Set up demo sound processor enables you to prepare an individualized demo device to a patient using a saved audiogram. You will be guided through a fast, simplified connection flow for quick and easy fitting of the demo device. Linear prescription and optimized feature settings will be applied for an in-clinic demonstration.
Data protection
To prevent any unauthorized access of any data in Baha Fitting Software, new security features include a log in to the system.
Log in to the Baha Fitting Software using your Windows username and password.
If Baha Fitting Software 6 is started in Noah 4.9™ or later, use your Noah login.
The software may also be installed using Active Directory groups to allow users to login without a password. Please note that the Active Directory group needs to be configured before installing the software.
These new security measures enhance auditing and logging abilities.
Customization for you and your patients
Fine-tuning of wireless program improvements:

Ability to set mixing ratio (i.e., Mic relative to Wireless Accessory (dB) for all individual accessory types)

New prescription for the wireless program, designed to enhance the experience of music

Possibility to fine-tune the wireless program
Linear prescription: Linear prescription can now be easily applied in Program settings (Fig 2). The prescription to linear gain will only be applied to the active program.
New ways to change program setting: The program setting menu is accessible by clicking the program icon in the Adjustment or Active Gain screen (Fig 2).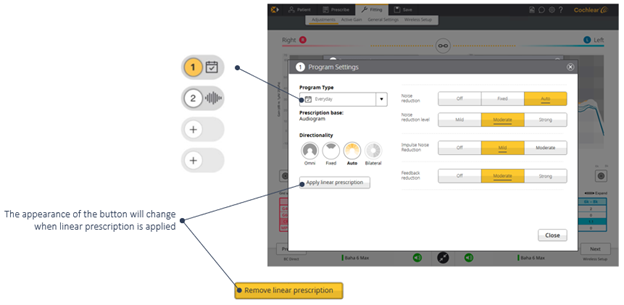 Figure 2
Adjust start up time: Turn on or off the start up delay as well as changing the start up delay time.
Guidance to optimize fitting: The software provides guidance in each step to optimize the fitting for your patient. If one or more of these steps are missed, you will get a reminder in the Save screen.

No feedback measurement is performed.

Gain is fine-tuned in the yellow feedback area.

Wireless accessories are not synced.

Changes have been made to the connection type without calculating new prescription.

Out of range indicators have been activated indicating that a more powerful device might need to be considered.
If you would like more information about Baha Fitting Software 6.0, please reach out to your local Cochlear Americas representative or visit the "Software Support" resource section in myCochlear Clinic for the link to register and download BFS 6.0.