With Meredith Klingshirn, AuD, Audiology Manager, Hillcrest Hearing and Balance Center (A division of Southwest Ohio ENT Specialists)
This Q&A delves into the impact of Cochlear's Engagement Managers (EM) and Recipient Solutions Managers (RSM) on Southwest ENT's clinical processes. Read on to see how these relationships can bolster clinic efficiency and further increase your recipients' confidence with their new devices and to achieve hearing goals.
The EM service allows candidates to gain the necessary information pre-surgery and also connects them to Cochlear Volunteers. The RSM Program provides a best-in-class virtual learning experience for new hearing implant recipients. Recipients who attend these educational sessions, offered in English and Spanish, learn how to use and care for equipment, real-world aural rehabilitation tips, how to pair accessories, how to use smart apps and how to utilize the many resources available at Cochlear.

First, tell us a little bit about yourself. What's your favorite part about being an audiologist?
I have been with Southwest Ohio ENT for six years and have been an implant audiologist for five. My favorite part of being an audiologist is seeing a patient get their life back. Family members often tell us that their loved one has withdrawn from family gatherings or social situations due to their hearing loss. Being able to help that person hear and understand again, is truly a gift. I love being able to create relationships with my patients and following them for several years. When they come into the office for appointments, I love to hear about the new activities they are doing or the places they are going because they now have the confidence and hearing to do so.
Your center has had great success integrating Cochlear's Engagement Managers (EM) and Recipient Solutions Managers (RSM) into your clinical protocol. How has this partnership benefited you in terms of clinical efficiency?
We initially integrated the use of our EM and RSM into our clinic protocols due to being short- staffed. We were incredibly backlogged with cochlear implant evaluation referrals to the point where our own patients were being referred out to other practices in the area affiliated with the Cochlear Provider Network. To keep our own patients, we knew we needed to make a change and added our EM to our cochlear implant evaluation protocol and RSM to the follow up care.
Every patient that is seen by our office for a cochlear implant evaluation first has a conversation with our EM for cochlear implant counseling and information. They are then seen by our audiologists for the evaluation portion and follow up with the EM to pick out their devices and accessories. Once the patient is implanted and seen for activation, we schedule them for an appointment with our RSM for assistance with navigating Cochlear tools, accessories and aural rehabilitation options.
We have absolutely seen clinic growth since we've changed our protocols. We have almost doubled the number of surgeries in the past six months. Although we have seen significant growth, we still have enough time in our schedules for appropriate follow up of those being implanted as well as those patients who we need to see for routine appointments or problems. The time that we have saved by having our patients see our EM and RSM have not only allowed us to keep our own patients and catch up on our backlog of cochlear implant evaluations, but we have created more time in our schedules that has allowed us to see patients for their activations and spend time with those that need extra attention or programming.
What is the value of these EM/RSM relationships for your patients? What do they like most about the programs?
We have found that patients have been very receptive to these relationships. They truly appreciate having another touch point to ask questions or discuss their options along their cochlear implant journey. Not only do our patients have their audiologist or surgeon to discuss questions or concerns, they can reach out to the EM or RSM who can also help answer non-troubleshooting questions. Our patients also appreciate that our EM is able connect them to a recipient who has already been through the process.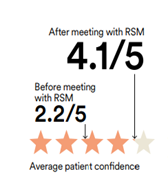 Patients who meet with our RSM following their activation have increased confidence in their equipment and their ability to use it. Once a patient has met with the RSM regarding their accessories, we rarely need to spend time reviewing it again. When patients know what their accessories do and how to maintain their devices, we see an increased confidence and ownership of the devices. They feel comfortable cleaning their devices, creating repair requests and reaching out to Cochlear for any assistance they may need. They have an understanding of what they can do on their own and when they need to schedule an appointment with us.
What would you recommend to another clinician to get started in integrating EMs and RSMs into their clinical protocols?
Most audiologists want to see and help as many patients as they possibly can. One of the best and easiest ways to do this is to integrate the use of Cochlear's EMs and RSMs into their clinic protocols.
As a clinic or audiologist, think about where you are spending most of your time with a cochlear implant candidate or recipient. Are you spending a lot of time counseling these patients? Is it paperwork or answering emails from patients? Are you spending a lot of time reviewing different aural rehabilitation options and programs or spending time reviewing and teaching the patient how to use their accessories? I know as a clinic, we were spending a lot of time doing all of these things before we integrated the use of our EM and RSM. If the resources are available and it allows us to see and help another patient, why not consider it?
Consider how you'd want to involve the EM or RSM. We have been most successful with follow through attendance scheduling the patient with the EM or RSM ourselves while they are sitting in our office for mapping appointments after activation. Cochlear has made it so easy to schedule these appointments through their scheduling link and it takes less than five minutes! Although these appointments are virtual, we have found that a good number of our older population now feels comfortable with these types of appointments, especially after COVID. The initial appointment with the RSM helps the patient navigate the resources that Cochlear has to offer.
Following an appointment with their physician, each candidate referred for a cochlear implant evaluation receives a folder with information to review before they are seen for their appointment with the audiologist. Each folder contains information regarding the implant process, device, surgery, etc. Prior to their cochlear implant evaluation, each person has a conversation with our EM discussing the same things that we would have talked about during the first part of the implant evaluation. This allows us to move smoothly and promptly into the testing portion of the appointment with little to no need for additional counseling.
What can you predict for your clinic in the future as the collaboration of services continues to grow and flourish?
I think that Cochlear has done an excellent job providing resources for clinics to use that allow us to cut down the amount of time we are spending with patients in our offices. Using these resources allows us audiologists to reach a higher number of people with hearing loss and continue to change and improve lives. I foresee our office continuing to grow our implant program and the number of people reached in the Dayton, OH area. I look forward to continuing to collaborate with Cochlear and am excited to add the remote services to our protocol allowing us to reach even more patients.
Get an inside look on the RSM Program here! Talk to your local Cochlear representative to get started.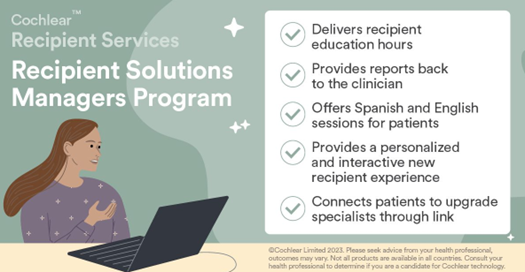 About the author: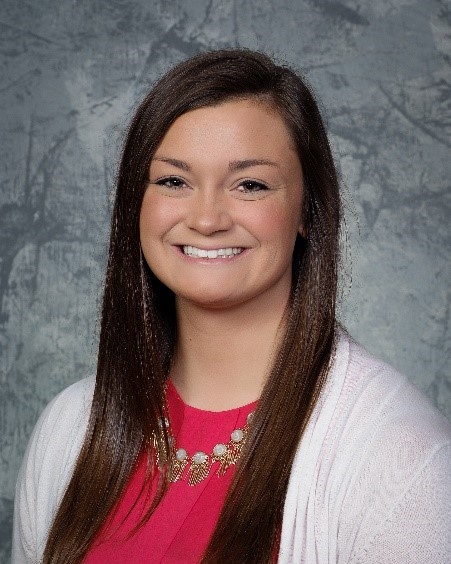 Dr. Meredith Klingshirn received her Bachelor of Arts in Speech and Hearing Science from The Ohio State University. She received her Doctorate of Audiology from Northeast Ohio AuD Consortium. Dr Klingshirn services cochlear implant, bone conduction devices, and hearing aid patients at Hillcrest Hearing and Balance. She lives in the Dayton, Ohio area with her husband, Derek, their (almost) one year old son, Mack, and sheepadoodle, Remi. She enjoys exploring new cities and our national parks with her family. When she's not at work you can find her at the gym.