Welcome to Cochlear™ Quick Tips. The purpose behind Quick Tips is to give you "bite-sized" information that you can use when working with our products. In this first edition, we will discuss Cochlear™ Nucleus® Depth Gauges.
What is a depth gauge?
Depth gauges are surgical components that utilize the same materials and have the same handling characteristics as "live" electrode arrays
When should a Depth Gauge be considered?
To aid in assessing the patency of the cochlea lumen if pre-operative imaging is inconclusive or unavailable
To assess if insertion depth is adequate
To assist in determining the most appropriate implant model
During explant/re-implant procedures
What Depth Gauges are available?
Cochlear has two types of depth gauges: the Contour Advance Depth Gauge and Straight Depth Gauge
The Contour Advance Depth Gauge is more commonly used of the two depth gauge options. This is due to its benefits in obstruction/fibrosis/ossification, common cavity, incomplete partition, and cochlear hypoplasia cases
Can I see an example of how this can be used?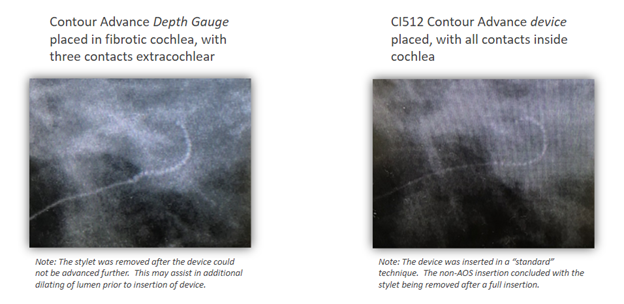 Anything else I should know?
Depth gauges are not approved for use as an implant or stent.
Monopolar electrocautery should not be performed with a depth gauge in position.
The Straight Depth Gauge DOES NOT have the same the same dimensions or handling characteristics as the Slim Straight electrode and does not have a smooth lateral surface or basal support​. Size differential between slim straight and straight electrode arrays may create false-positive or false-negative feedback with use​.
For more information, please reach out to your local Cochlear representative or call Cochlear's Surgical-on-Call at (877) 279-5411.
To learn more about Cochlear™ Nucleus® Implants, visit our website.