The Nucleus® 7 is the world's only Made for iPhone1 cochlear implant sound processor. In fact, it is 25 percent smaller and 24 percent lighter than the previous generation Nucleus 6 Sound Processor.2 Making the Nucleus 7 the smallest and lightest cochlear implant sound processor available. In many cases, a smaller device can have a negative impact on battery life; however, we have incorporated a more power efficient chip so the smaller than ever Nucleus 7 actually improves battery life by up to 50%.3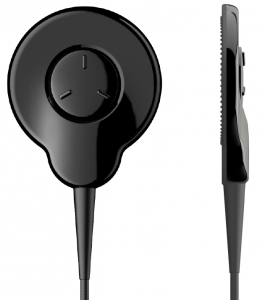 The Nucleus 7 Sound Processor features the Cochlear Slimline™ Coil, a new ultra-compact all-in-one coil and cable. This coil is lighter and offers a lower profile than previous sound processors, which is designed to provide greater comfort – especially when wearing a hat or helmet. In a recent clinical trial, 86 percent of users rated the Nucleus 7 Sound Processor more comfortable than their previous or current sound processor.4
Download the Nucleus® 7 Sound Processor User Guide .

References:
Apple Inc. Use Made for iPhone hearing aids [Internet]. Apple support. 2017 [cited 24 February 2017]. Available from: https://support.apple.com/en-au/HT201466 (Subject to change at time of launch).

Cochlear Limited. D1190805. CP1000 Processor Size Comparison. 2017, Mar; Data on file.

Cochlear Limited. D1140877. Battery Life and Power Consumption Comparison between CP1000, CP900 Series and CP810 Sound Processors. 2017, Mar; Data on file.

Cochlear Limited. D1182081. CLTD 5620 Clinical Evaluation of Nucleus 7 Cochlear Implant System. 2017, Mar; Data on file.
Apple, the Apple logo, iPhone,and iPod touch are trademarks of Apple Inc., registered in the U.S. and other countries. App Store is a service mark of Apple Inc.
The Nucleus 7 Sound Processor is compatible with iPhone 8 Plus, iPhone 8, iPhone 7 Plus, iPhone 7, iPhone 6s Plus, iPhone 6s, iPhone 6 Plus, iPhone 6, iPhone SE, iPhone 5s, iPhone 5c, iPhone 5, iPad Pro (12.9-inch), iPad Pro (9.7-inch), iPad Air 2, iPad Air, iPad mini 4, iPad mini 3, iPad mini 2, iPad mini, iPad (4th generation) and iPod touch (6th generation) using iOS 10.0 or later.