Two global leaders in the hearing loss industry, Cochlear and ReSound, are now partners!
Give your patients the opportunity for a richer and more natural hearing experience with the new Nucleus 7 Smart bimodal hearing solution1, the world's first and only bimodal solution that is Made for iPhone.2 Your patients with a Cochlear Nucleus® 7 Sound Processor and a compatible ReSound LiNX3D™ hearing aid* can now stream sound simultaneously to both ears from a compatible Apple® device.± With a smart bimodal hearing solution they can use their iPhone® to: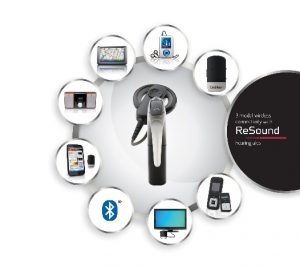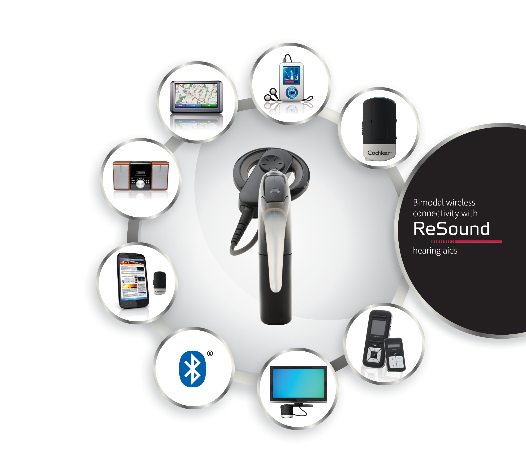 Connect with others on the phone with confidence and improved understanding3
Rediscover the joy of music, movies and entertainment
Easily control their device settings through the Nucleus® Smart App directly on their iPhone®
Locate the sound processor with Find my Sound Processor functionality
Compared to using two hearing aids, a bimodal hearing solution is proven to help people understand speech and improve the clarity of words in various listening environments, including noisy listening situations.4, 5, 6 The benefits of bimodal hearing also include the following:
Improved hearing in quiet and noise
Better sound quality and music appreciation7
Prevention of auditory deprivation8
Improved ease of listening9, 10
Superior sound localization11
Cochlear promises to provide your patients with the best possible hearing solution, plus reliability that lasts a lifetime. With more than 30 years of quality and innovation, we have helped over 450,000 people who have chosen Cochlear solutions. You can feel confident that Cochlear is also here to support you, as you support your patients.
Visit our Bimodal Solution webpage today to learn more!
 
* With compatible ReSound hearing aids. A list of compatible hearing aids is available online at: www.cochlear.com/nucleus/compatibility
± A list of compatible Apple devices can be found at the bottom of this document.
References:
Sammeth CA, Bundy MBM, D. A. (2011) Bimodal Hearing or Bilateral Cochlear Implants: A Review of the Research Literature. Semin Hear 32:3-31.

Apple support. 2017 [cited 24 February 2017]. Available from: https://support. apple.com/en-au/HT201466#compatible.

Cochlear Limited, D1182081. CLTD 5620 Clinical Evaluation of Nucleus 7 Cochlear Implant System. 2017, Mar; Data on file.

Gottermeier L, De Filippo C, Clark C. Trials of a Contralateral Hearing Aid After Long-Term Unilateral Cochlear Implant Use in Early-Onset Deafness. American journal of audiology. 2016 Jun 1;25(2):85-99.

Dorman MF, Gifford RH, Spahr AJ, McKarns SA. The benefits of combining acoustic and electric stimulation for the recognition of speech, voice and melodies. Audiology and Neurotology. 2008;13(2):105-12.

Gifford RH, Dorman MF, McKarns SA, Spahr AJ. Combined electric and contralateral acoustic hearing: Word and sentence recognition with bimodal hearing. Journal of Speech, Language, and Hearing Research. 2007 Aug 1;50(4):835-43.

Sucher CM, McDermott HJ. Bimodal stimulation: benefits for music perception and sound quality. Cochlear Implants International. 2009 Jan 1;10(S1):96-9.

Ching TY, Van Wanrooy E, Dillon H. Binaural-bimodal fitting or bilateral implantation for managing severe to profound deafness: a review. Trends in amplification. 2007 Sep 1;11(3):161-92.

Hamzavi J, Marcel Pok S, Gstoettner W, Baumgartner WD. Speech perception with a cochlear implant used in conjunction with a hearing aid in the opposite ear. International journal of audiology. 2004 Jan 1;43(2):61-5.

Ching TY, Incerti P, Hill M. Binaural benefits for adults who use hearing aids and cochlear implants in opposite ears. Ear and hearing. 2004 Feb 1;25(1):9-21.

Potts LG, Skinner MW, Litovsky RA, Strube MJ, Kuk F. Recognition and localization of speech by adult cochlear implant recipients wearing a digital hearing aid in the nonimplanted ear (bimodal hearing). Journal of the American Academy of Audiology. 2009 Jun 1;20(6):353-73.
© Cochlear Limited 2017. All rights reserved. Hear Now And Always and other trademarks and registered trademarks are the property of Cochlear Limited.
The Nucleus 7 Sound Processor is compatible with iPhone 7 Plus, iPhone 7, iPhone 6s Plus, iPhone 6s, iPhone 6 Plus, iPhone 6, iPhone SE, iPhone 5s, iPhone 5c, iPhone 5, iPad Pro (12.9-inch), iPad Pro (9.7-inch), iPad Air 2, iPad Air, iPad mini 4, iPad mini 3, iPad mini 2, iPad mini, iPad (4th generation), iPod touch (6th generation) and iPod touch (5th generation) using iOS 10.0 or later. Apple, the Apple logo, Made for iPad logo, Made for iPhone logo, Made for iPod logo, iPhone, iPad Pro, iPad Air, iPad mini, iPad and iPod touch are trademarks of Apple Inc., registered in the U.S. and other countries. App Store is a service mark of Apple Inc., registered in the U.S. and other countries. Information accurate as of June 2017