The Nearby functionality on the Nucleus® Smart App is part of the new Nucleus 7 expanded features. The Nearby functionality helps recipients and parents to locate a paired Nucleus 7 Sound Processor(s) within the Find my Sound Processor feature of the Nucleus Smart App.
The Nearby functionality works as a proximity locator, to help recipients and parents locate a missing sound processor with even greater accuracy. This new feature displays how close the mobile device is to a switched-on sound processor. The higher the green bar goes, the closer they are to the sound processor.
In order to use the Nearby functionality on the Nucleus Smart App, the sound processor must be switched-on and paired with a compatible smartphone via Bluetooth®. The sound processor and smartphone device must be within Bluetooth range for the Nearby functionality to work properly.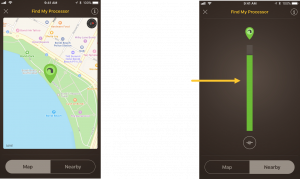 For a unilateral recipient, a single signal strength bar is shown in the middle of the screen with a green indicator that fills up the bar as the sound processor comes within close range of the mobile device. A fully filled green bar indicates the sound processor is very close to the mobile device, while a close to empty strength bar indicates that the user needs to move around the location with their mobile device.
For a bilateral recipient, the app shows a blue strength bar for the left sound processor and a pink strength bar for the right sound processor with the fill color indicating the proximity between the respective sound processor and the mobile device.
When a sound processor is disconnected or not within Bluetooth range (10 meters), the signal strength bar is grayed out and the app indicates with an "Out of range" message. Either the user needs to move around to come into range or they might need to move to "Map" mode of Find my Sound Processor.
Get more information on the Nucleus 7 Expanded Features.

The Bluetooth® word mark and logos are registered trademarks owned by Bluetooth SIG, Inc., and any use of such marks by Cochlear Limited is under license.