The American Cochlear Implant Alliance (ACI Alliance) is an organization with a dedication to increasing awareness and access to cochlear implantation and eliminating barriers to this treatment option. Each year, the ACI Alliance hosts a conference that brings together clinicians, surgeons, scientists and advocates to share the latest research and work together to support the organization's efforts. This year, the CI2023 conference was held in Dallas, June 7-10.
Cochlear™ hosted two symposia during the conference. The first symposium focused on the future of patient-centered cochlear implant care, and how our industry can continue to deliver excellent outcomes while ensuring new patients have access to timely cochlear implant care. We were accompanied by an outstanding panel of professionals who shared their findings and experiences in these focus areas. Joining us at the podium were:
David Friedmann, MD – NYU Langone Health
Rene Gifford, PhD – Vanderbilt University
Abraham Jacob, MD – Center for Neurosciences
Rebecca Lewis, AuD – Pacific Neuroscience Institute
Molly Smeal, AuD – University of Miami
Courtney Voelker, MD – Pacific Neuroscience Institute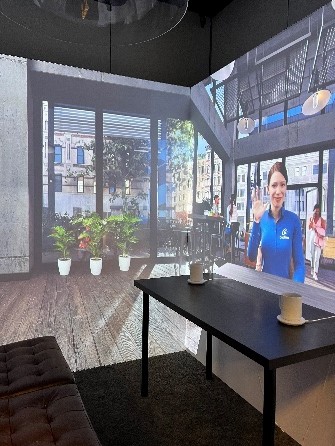 Cochlear's Exhibit Booth was unlike any booth experience we've ever offered! Professionals had the chance to step inside a virtual coffee shop to experience the impact of ForwardFocus and how this feature can benefit patients. Throughout the exhibit, visitors had the opportunity to demo the new Cochlear™ Nucleus® Smart App with Bimodal Control and experience our Connected Care services, including Remote Assist, Remote Check and SmartNav.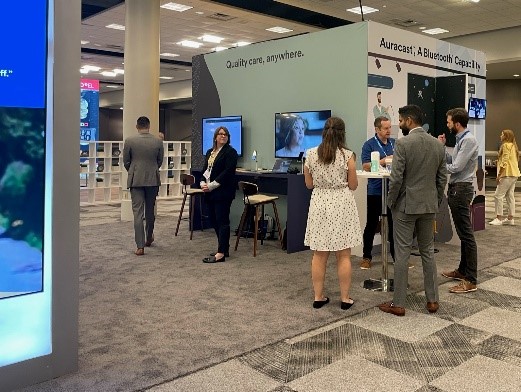 Additionally, our colleagues with AuraCast offered demonstrations of this incredible technology and professionals were able to experience the ease and convenience that this groundbreaking Bluetooth® technology may be able to provide in the future for Cochlear Nucleus 8 Sound Processor recipients. With a simple touch of a button, they were able to change streaming options from a television, to a laptop, a simulated airport gate announcement and more.
Check out the video on LinkedIn to see the full booth exhibit!
We wrapped up the conference with our second symposium which focused on the technological, surgical, clinical and audiological practices that contribute to a lifetime of hearing performance. Once again, we were joined by phenomenal panel of experts. This included presentations from:
Karen Gordon, PhD – University of Toronto & SickKids
Akira Ishiyama, MD – UCLA
Kristen Lewis, AuD – Saint Luke's Hospital Midwest Ear Institute
Alejandro Rivas, MD – University Hospitals
Matthew Shew, MD – Washington University School of Medicine in St. Louis
It was a brilliant conference featuring incredible research from more colleagues than we could possibly cover in a single post. We hope to see you next July at CI2024 in Vancouver! Details here: https://ci2024vancouver.org/