By guest author: Michelle Kraskin, Au.D., CCC-A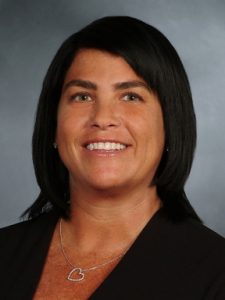 As an audiologist who has worked with pediatric patients for 15+ years, I have been amazed by the changes in amplification and wearing options for patients. The Baha® SoundArc is intended for children with conductive hearing loss, mixed hearing loss and single-sided sensorineural deafness (SSD) and is compatible with all Baha® 5 sound processors.
SoundArc is an effective non-surgical way to experience bone conduction hearing, and an important first step to your patients hearing their best.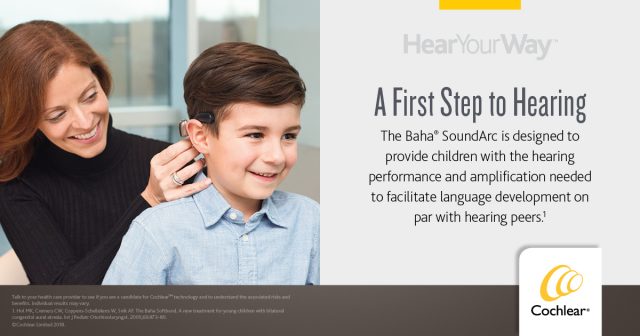 The option to experience hearing through a Baha sound processor prior to surgery can often help influence a patient's decision to move forward with the treatment option. With the test rod, the Softband and the SoundArc, audiologists have several options for demonstrating the device's effectiveness, sound quality and comfort. For some patients, SoundArc can be easier-to-wear and more discreet than the Softband.
From my perspective, recipients want things to be easy-to-use and discreet.  I found this to be especially true when making the recommendation for a Baha System. Parents of children with anatomical differences, such as microtia or atresia, may already have concerns about how their child will be able to wear hearing technology. When counseling parents and recipients on their amplification options, I have seen patients' acceptance of our recommendations change when they are presented with the SoundArc because they can see and understand how their child will be able to wear the device.
Initially my concern with the SoundArc was that my patients would not perform quite as well, I figured this option was "too good to be true." I wanted to verify that the SoundArc was equivalent to the Softband that I have been fitting successfully for several years. The soft silicone tips on the ends of the SoundArc help create a comfortable and snug fit, while the silicone grips on the inner portion of the tips help with better retention. The steel band of the Baha SoundArc is created for strength and flexibility. It provides optimal, but comfortable, pressure and it can be bent as needed to allow for a perfect fit. The Connector disc provides the foundation of the sound transmission – it is compatible with the Softwear pad. The Connector disc allows for easy attachment of any of the Baha 5 suite of sound processors and the design helps to minimize acoustic feedback.  I found that functional gain for recipients wearing the Baha SoundArc was similar to that of their current Baha Softband wearing option.
The SoundArc is truly an extraordinary product. It offers great flexibility; it is discreet and easy-to-use for adult and pediatric patients alike. Overall, the Baha SoundArc has been a slam-dunk for our patients and here is what they had to say:
"Wow, finally I can tell people about my hearing loss before they see me wearing something" – 6 year old recipient with unilateral microtia/atresia

"This stays on so much better when she's playing with her friends" – parents of a 2 year old recipient with bilateral canal stenosis

"I can wear my hair down now!" – 5 year old recipient with bilateral microtia/atresia
For more information on the Baha SoundArc, please visit our website.
About our guest author:
Dr. Kraskin has been affiliated with New York-Presbyterian Hospital/Weill Cornell Medical Center since 2003. She is responsible for the coordination of the day-to-day activities for audiology and speech and for infant screening services as part of the Hearing and Speech Department. Her clinical expertise is in the area of pediatric assessment of hearing including audiometry, auditory brainstem response (ABR), and otoacoustic emissions (OAE) testing.