Providing peace of mind and additional confirmation during cochlear implant surgery with the Nucleus CR220 Intraoperative Remote Assistant.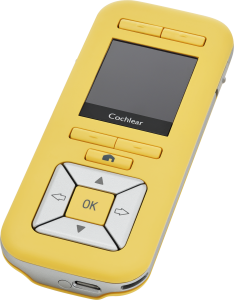 For a new Cochlear™ recipient and their family, knowing that the cochlear implant is functioning as their surgeon and audiologist expected, and that the auditory nerve is responding to stimulation, can be reassuring. For the audiologist and surgeon, knowing that electrode impedances are appropriate, and that AutoNRT® thresholds were measured provides confidence that the surgical procedure was successful. In the past, a laptop with Custom Sound®, a programming pod, and associated cables were required to obtain this information – and it was typically in the purview of the audiologist to take time out of his or her schedule to complete the testing. To address these challenges, Cochlear partnered with surgeons and clinicians to expand the capabilities of the industry-first bidirectional remote assistant to provide this valuable information more quickly, and by anyone in the operating room. Using the CR220 Intraoperative Remote Assistant means obtaining confidence that all electrodes are functioning, and that the auditory nerve is responding to stimulation, has never been easier, faster or more efficient!
 Below is some helpful information to know when working with the CR220 Intraoperative Remote Assistant:
Before using the CR220 in the operating room for the first time, you can learn how it works via the onboard Practice Mode. Simply press and hold the OK button, press the down arrow to highlight Practice Mode, and press OK. Be sure to explore the screens accessed by pressing the right side arrow before, during and after testing. You may wish to turn off the Beeps on Remote under Settings before starting your practice session.
The operating range between the CR220 Remote Assistant and the CP810 processor is up to 6 feet.
For simplicity, the CR220 uses the same intraoperative AutoNRT® parameters as Custom Sound®

Stimulation rate of 250Hz
Measurement starts at 170 current level (CL), after a conditioning stimulus of 230 CL for each electrode.
All 22 intracochlear electrodes are measured starting with Electrode 22, followed by Electrode 1, 11, 6, 16 and so on.
Note: AutoNRT has a high success rate of obtaining threshold NRT (T-NRT) on 93 percent of electrodes, which is better than any other cochlear implant objective measure.1
The CR220 Intraoperative Remote Assistant has clear, simple messages to inform you of any actions you may need to take during testing. Below are just two examples.
          a. If the connection to the internal device is lost, the following will be shown on the CR220's display screen:
A prompt to 'Reconnect coil to Implant.' You will have five minutes to reconnect, otherwise the test session will conclude.  If this occurs, you can initiate a new session to collect your data.
          b. After pressing the OK button to pause AutoNRT while it is running you will see:
Resume AutoNRT: the device will simply continue testing from where it was paused.
View Results: use the arrow keys to see the acquired NRT profile or individual NRT traces.
Either Cancel AutoNRT or Finish AutoNRT If you cancel AutoNRT before three electrode measurements are completed, the Auto NRT Cancelled screen will display. Press the OK button to return to the NRT: Electrodes screen to re-start. If you stop AutoNRT after three or more electrode measurements are completed, you will have the option to Finish AutoNRT.
We hope that using the CR220 Intraoperative Remote Assistant enhances your confidence in surgery, reduces your clinical load and complexity, and enhances your clinic efficiency.
If you would like to learn more about the CR220, please visit our one-hour (CEU available) Audiology Online course using the following link:
*van Dijk, B., Botros, A., Battmer, R., Begall, K., Dillier, N., Hey, M., Lai, W., Lenarz, T., Laszig, R., Morsnowski, A., Muller-Deile, J., Psarros, C., Shallop, J., Weber, B., Wesarg, T., Zarowski, A. & Offeciers, E. (2007) . Clinical results of AutoNRT: A completely automatic ECAP recording system for cochlear implants. Ear and Hearing. 28:4, 558-570
©Cochlear Limited 2017. All rights reserved. Hear now. And always and other trademarks and registered trademarks are the property of Cochlear Limited or Cochlear Bone Anchored Solutions AB. The names of actual companies and products mentioned herein may be the trademarks of their respective owners.