What is implant stability and why does it matter?
By Shawn Enter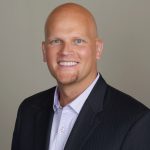 Dating back to the 1950s, Swedish Professor P-I Branemark pioneered the study of titanium and its osseointegration qualities.  His research was advanced by Dr. Anders Tjellstrom's work on bone conduction hearing implants.  Throughout the decades, titanium has served as the metal of choice for hearing implants.  Today, Cochlear offers the most advanced titanium implant in the Baha® 300 Series implant.  The BI300 implant boasts the TiOblast™ surface for faster/stronger osseointegration and secondary stability when compared to previous implants. It has small sized threads for optimal load distribution and a wider profile of 4.5mm to optimize strength of the system.  These attributes allow clinically proven long-term stability.1, 2 The chart below shows 5-year follow up data of primary and long-term strength of osseointegration with the Baha 300 Series implant.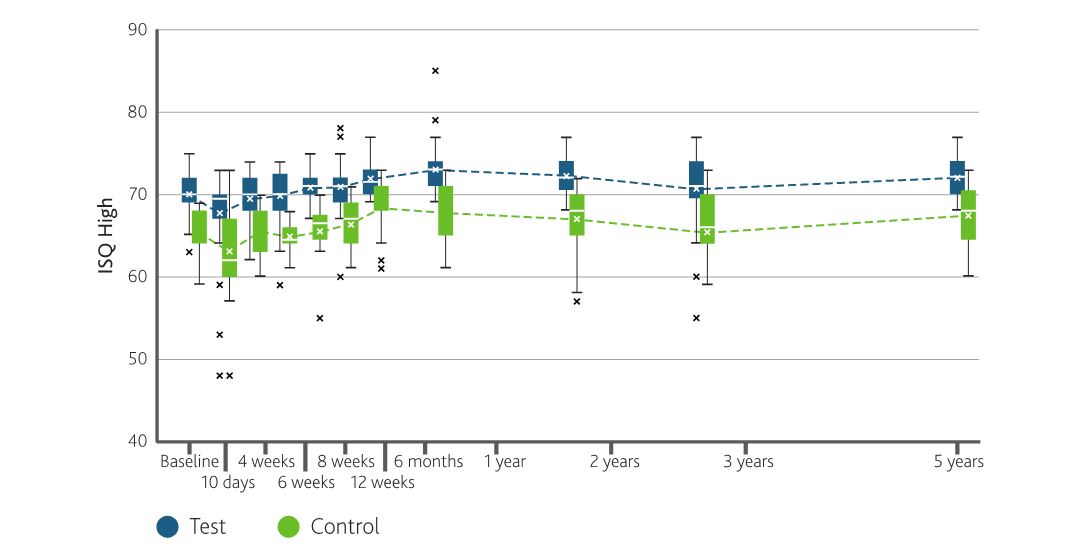 Whether a sound processor is actively loaded on a Baha Connect system or passively loaded on a Baha Attract system, your patients will benefit from the most advanced titanium bone conduction implant available; the Baha 300 Series implant.
The Importance of DermaLock™
By Kelly Crettol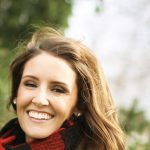 The Cochlear® Baha® Connect System is a well-proven percutaneous bone conduction implant system allowing direct, single-point sound transmission via a minimally invasive skin-penetrating abutment.
Conventional titanium abutments have been used for 40 years, but despite titanium's well established ability to osseointegrate with bone, it does not integrate with the surrounding tissue. As a result, bone conduction implant surgery previously involved substantial soft tissue reduction to facilitate successful outcomes. Consequently, viable structures of the soft tissue were permanently removed affecting the healing capacity of the local immune system. The Cochlear® Baha® BA400 Abutment with DermaLock™ technology features a plasma-sprayed hydroxyapatite (HA) coating and concave design that promotes soft tissue adherence and stability.3 
Hydroxyapatite (HA) has been shown to provide enhanced dermal adhesion, diminishing epidermal downgrowth and pocket formation, and thus allowing for preservation of the soft tissue during surgery. This technology helps preserve the hair and skin around the abutment which not only leads to improved aesthetics and reduced numbness, but also dramatically reduces surgery time and benefits healing through increased vascularization of soft tissue.4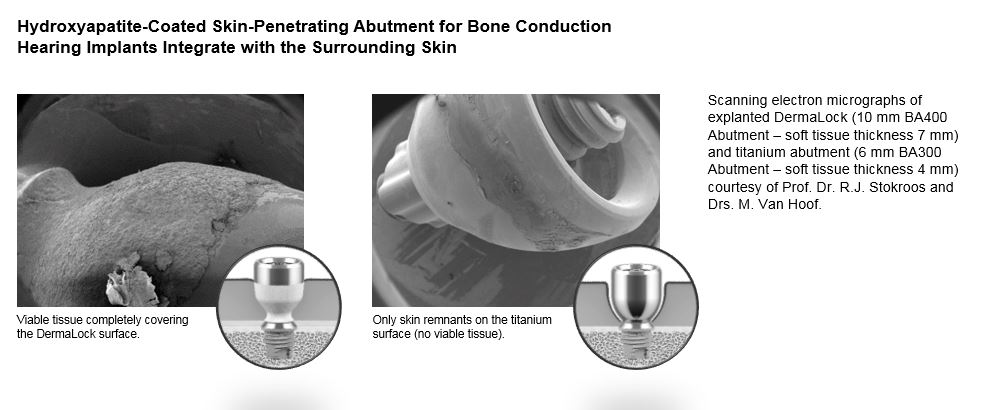 About our guest authors:
Shawn Enter, Regional Surgical Training Manager at Cochlear Americas
Shawn is responsible for training surgeons and OR staff in the Cochlear Implant, Baha and Vistafix product lines.  He also supports complicated surgical scenarios and assists in new product launches.  Shawn joined Cochlear as an Area Business Manager and has worked in the Surgical Specialist role over the last five years.  Prior to joining Cochlear in January of 2010, Shawn provided surgical training and support in the Orthopedic industry for DePuy Mitek and Stryker.
Kelly Crettol, Surgical Education Manager at Cochlear Americas
Previously, she was a RSTM for the West Region and has been with Cochlear since February 2016. In her new role, Kelly is responsible for the development and execution of Cochlear's surgical and fellowship education programs which includes development of educational content, implementation, promotion and assessment of surgical education programs.  She is also responsible for the coordination and collaboration with both internal colleagues and professional partners, including KOLs.
Kelly has over twelve years of experience in pharmaceutical and medical devices sales from prior organizations. Kelly graduated from Pennsylvania State University with a B.S. in Psychology.
References:
den Besten CA, Stalfors J, Wigren S, Blechert JI, Flynn M, Eeg-Olofsson M, Aggarwal R, Green K, Nelissen RC, Mylanus EA, Hol MK. Stability, Survival, and Tolerability of an Auditory Osseointegrated Implant for Bone Conduction Hearing: Long-Term Follow-Up of a Randomized Controlled Trial. Otol Neurotol. 2016;37(8):1077-1083.

Sennerby L, Gottlow J, Rosengren A, Flynn M. An experimental evaluation of a new craniofacial implant using the rabbit tibia model: Part II. Biomechanical findings. Otol Neurotol. 2010;31(5):840-845.

van Hoof M, Wigren S, Duimel H, Savelkoul PH, Flynn M, Stokroos RJ. Can the Hydroxyapatite-Coated Skin-Penetrating Abutment for Bone Conduction Hearing Implants Integrate with the Surrounding Skin? Front Surg. 2015;2:45.

Iseri M, Orhan KS, Yariktas MH, Kara A, Durgut M, Ceylan DS, Guldiken Y, Keskin IG, Deger K. Surgical and audiological evaluation of the Baha BA400. J Laryngol Otol. 2015;129(1):32-37.