The AAO-HNSF Annual Meeting and OTO Experience is an educational and networking conference for the otolaryngology-head and neck surgery community. This meeting is a great opportunity for thousands of physicians, health professionals, administrators and exhibiting companies to come together for four days. This year, the AAO-HNSF Annual Meeting and OTO Experience was held in Atlanta, GA.
Cochlear took the opportunity to survey some of the attendees that perform cochlear implant surgery to gain perspective on a few important trends in the industry. We surveyed 16 surgeons with an average of 14 years (ranging 5-30 years) of experience in cochlear implant surgery. Some of the key findings from the survey are outlined within this post.
Question: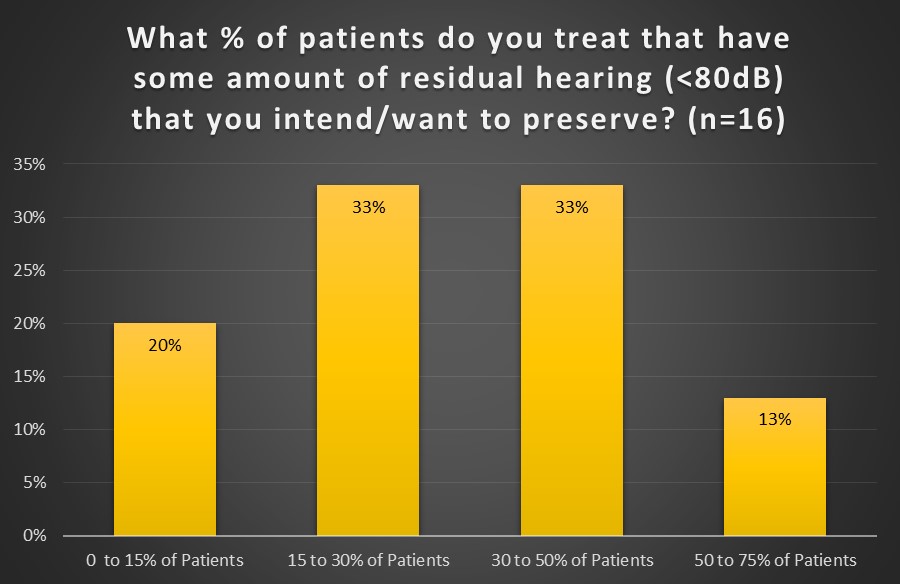 Response:
As you can see from the results above, many surgeons treat patients with cochlear implants who have residual hearing. This supports the notion that cochlear implantation is not only for the profoundly deaf. A key part of treating patients with residual hearing is having the confidence to implant with electrodes that are thin and atraumatic. Minimizing insertion trauma is important for maximizing hearing performance.1 Cochlear offers the three thinnest electrodes on the market2 (CI522, CI532, L24) that are designed for atraumatic insertion and structural preservation, the first step in giving a patient the best chance of retaining residual hearing. The CI532 electrode with unique sheath design is one example within the Cochlear portfolio where consistent scala tympani location3 and preservation of the delicate structures of the inner ear4 have been shown. Regardless of the extent of residual hearing, the slim and atraumatic electrode design within the Cochlear portfolio has been a fundamental consideration to provide clinicians with the best possible opportunity to preserve their patient's inner ear structure. Maximizing the opportunity to preserve residual hearing will continue to be a focus for Cochlear in the years to come.
Question: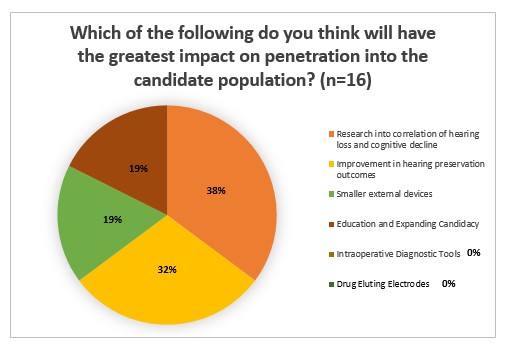 Response:
Over the past decade, there has been a shift to cochlear implantation for seniors (65+ years). This is driven in part by the ageing population and increased incidence of hearing loss within this age group. Cochlear implantation for seniors has never been more important as we start to understand the link between high levels of hearing loss and cognitive decline. Both hearing loss and cognitive decline can lead to social isolation and depression, which can affect a person's psychological well-being and physical health. This is why it is important to treat hearing loss within the senior community. Many seniors experience a severe hearing loss and there is growing evidence of higher performance outcomes with cochlear implants over hearing aids for many people with a severe hearing loss (>70dB).5
Cochlear recognizes the importance of taking care of our senior citizens, which is why we have increased our investment in health economics, our market access capability and the collaborative partnerships we have with the medical research community to build on the clinical evidence that demonstrates the effectiveness of our products, especially for seniors. Back in March 2018, Cochlear pledged 10 million dollars to the Johns Hopkins Bloomberg School of Public Health to establish the 'Cochlear Center for Hearing and Public Health'. The Center will be a first of its kind at any academic institution focused on addressing hearing loss as a global public health priority. Cochlear will continue to innovate and educate the world on hearing loss and the potential effects of not being treated, including cognitive decline.
For further information on Cochlear and our commitment to innovation, research and the treatment of hearing loss, please visit here.

References
Carlson, M. L., et al. Implications of Minimizing Trauma during conventional cochlear implantation. Otology and Neurotology. 2011; 32 (6), p. 962-968. https://www.ncbi.nlm.nih.gov/pubmed/21659922
FUN1142 Electrode Comparison Sheet
Aschendorff et al. Clinical investigation of the Nucleus Slim Modiolar Electrode. Audiology & Neurotology. 2017; 22:169-179.
EA32 Electrode Insertion Safety and Performance Study Report Data on File (Document Number: 473386)
Hoppe U, Hocke T, Hast A, Hornung J. [Longterm Results of a Screening Procedure for Adult Cochlear Implant Candidates]. Laryngo- Rhino- Otologie [serial on the Internet]. (2017, Apr), [cited July 4, 2018]; 96(4): 234-238.