On December 1, 2020, the Centers for Medicare & Medicaid Services (CMS) released their final rule on the Medicare Physician Fee Schedule (PFS). The changes and new rates outlined in this regulation become effective on January 1, 2021.
Conversion Factor and CY2021 Payment Rates
CMS uses conversion factors to calculate MPFS payment rates. CMS finalized the conversion factor (CF) for CY 2021 at $32.41, this is a decrease of $3.68 or 10.20% from the CY 2020 CF.
The payment reductions are a result of the payment increase in relative value units (RVU) for many Evaluation and Management (E/M) services.
CMS increased the RVUs to reflect the increasing payment rate of E/M and outpatient visits associated with the growth in Medicare enrollment and ensures clinicians are paid appropriately for the time they spend coordinating care for patients.
This decision led to negative revenue impacts on several physician specialty groups due to the budget neutrality requirement.
Both American Speech-Language-Hearing Association (ASHA) and American Academy of Audiology (AAA) worked with the American Academy of Neurology (AAN) and American Academy of Otolaryngology-Head and Neck Surgery (AAO-HNS) to provide recommendations to the Centers for Medicare and Medicaid Services (CMS) to address the specialties' concerns with the proposed increase in RVUs for E/M services (along with many other physician groups), however CMS declined to waive the budget neutrality requirements.
A comparison of 2020 and 2021 national average rates for various audiology and surgical services related to hearing implants are as follows: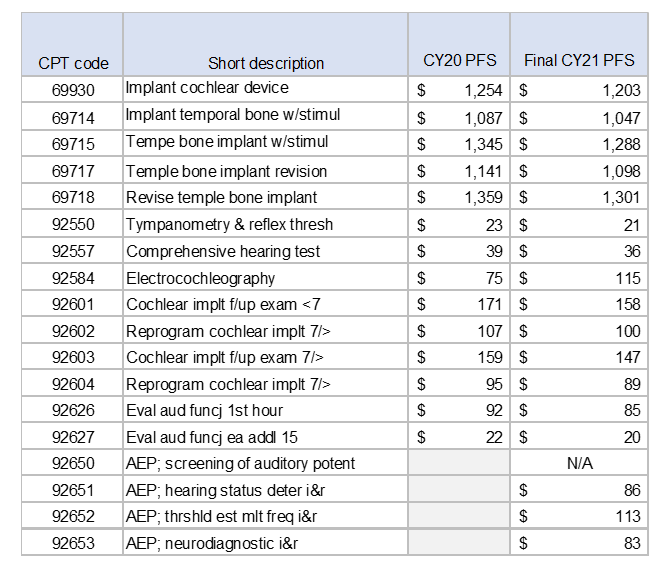 New and Updated CPT Codes
Vestibular Evoked Myogenic Potential (VEMP) Testing
CMS finalized four new CPT codes to report VEMP testing, which audiologists previously reported using an unlisted CPT code. The following new CPT codes for VEMP testing became effective January 1, 2021:
92517, Cervical (cVEMP) testing;
92518, Ocular (oVEMP) testing;
92519, cVEMP and oVEMP testing
Auditory Evoked Potential (AEP) Testing
CMS also finalized four new services/codes under auditory evoked potentials. The CPT codes 92585 and 92586 are deleted December 31, 2020. The following new CPT codes for AEP testing became effective January 1, 2021:
92650, auditory evoked potentials, screening of auditory potential
92651, auditory evoked potential hearing status determination
92652, auditory evoked potential, threshold estimating multiple frequencies
92653, auditory evoked potential, neurodiagnostic T
Please note that CMS considers CPT code 92650 a screening code and does not cover screenings but published the total relative value units (RVUs) for the code. CPT 92650 may be used by Medicaid programs and commercial insurers.
Telehealth Services
CMS addressed telehealth services in the final rule, however CMS lacks the statutory authority to allow Audiologist and SLPs to continue to bill for telehealth services once the Public Health Emergency (PHE) ends. During the PHE, CMS will continue to cover remote programming of cochlear implants for audiologists.
Please visit your society websites for additional information on the changes implemented in the MPFS Final Rule Calendar Year (CY) 2021.
For a full list of CPT Codes and Medicare Rates, please see ASHA's analysis of the 2021 MPFS that outlines the national average payment amounts for audiologists.
CPT and CPT material are copyrights of American Medical Association (AMA): CPT copyright 2020 American Medical Association, all rights reserved. CPT is a registered trademark of the American Medical Association. Information is provided as guidelines only to address the unique nature of implantable hearing solutions technology. This information does not constitute reimbursement or legal advice. Cochlear Americas makes no representation or warranty regarding this information or its completeness, accuracy, fitness for any purpose, timeliness, or that following these guidelines will result in any form of coverage or reimbursement from any insurance company or federal health care program payer. The information presented herein is subject to change at any time. This information cannot and does not contemplate all situations that a health care professional may encounter. To be sure that you have the most current and applicable information available for your unique circumstances, please consult your own experts and seek your own legal advice regarding your reimbursement and coding needs and the proper implementation of these guidelines. All products should be used according to their labeling. In all cases, services billed must be medically necessary, actually performed, and appropriately documented in the medical record.