By Dave Catlett, Au.D. – Principal Clinical Training Manager, Cochlear Americas
Presley, R. "Increasing Efficiency While Maintaining Patient Outcomes and Satisfaction: One Clinic's Approach to a New Service Delivery Model." Presented at ACIA's CI2019: 16th Symposium on Cochlear Implants in Children, Hollywood, FL, July 2019
Slager, H. et al. "Artificial Intelligence-Assisted Cochlear Implant Mapping: Implications for Clinic Efficiency and Future Directions." Poster at ACIA's CI2019: 16th Symposium on Cochlear Implants in Children Hollywood, FL, July 2019
Zwolan, T. "The Benefits of Using Audiology Assistants in a Cochlear Implant Program." Presented at ACIA's CI2019: 16th Symposium on Cochlear Implants in Children Hollywood, FL, July 2019
In today's busy clinical environment, clinicians who value research-based practice often struggle to keep up with current literature. To help, we're excited to offer a new ProNews Blog monthly feature – Journal Club! Each month, rotating guest authors will present a current research-based journal article summary.
This month's Journal Club explores two podium presentations and one poster presented at the ACIA CI2019: 16th Symposium on Cochlear Implants in Children conference in Hollywood, Florida by audiologists from the University of Michigan and Greater Baltimore Medical Center (GBMC).
What did these clinics investigate?
Each of these investigations explored ways to improve patient access to cochlear implant technology and clinical care including:
Use of trained, non-audiologist clinical assistants to supplement provision of testing (particularly for pediatric recipients), counseling and troubleshooting
Reduction in audiologist non-billable time and procedures
Efficacy of reducing the number of clinical programming appointments in the first year post-activation while preserving recipient performance outcomes and patient satisfaction
Why is this important?
Despite increased awareness of cochlear implants in the general population and growth in the number of clinics providing cochlear implant services, it has been estimated that only 5% of those who could benefit from a cochlear implant have received one.1,2
Ongoing efforts to educate professionals and the public on the benefits of cochlear implantation, coupled with an aging population and research showing that untreated hearing loss can lead to the acceleration of isolation in the elderly, are intended to increase consideration of CI and guide more potential candidates to clinics for assessment and, if indicated, implantation.3
Increasing clinic capacity to accommodate greater access without sacrificing quality of outcomes or overwhelming clinic schedules is an increasingly-discussed topic, as evidenced by dedicated sessions at recent ACIA meetings focused on service delivery. In light of this, clinics are exploring novel approaches to the provision of quality care for their patients, increasing clinic productivity and reducing non-billable time and services.
How did they do it?
Each presentation described similar challenges seen among CI centers looking to provide quality care in a sustainable way.
Access to sound booths for testing and, increasingly, real ear equipment to optimize contralateral hearing aids and/or verify acoustic CI components
Busy clinic schedules, particularly the number and length of post-operative programming appointments
Less-than-ideal reimbursement, especially given the needed provision of non-billable services like counseling, troubleshooting and email/phone responses
Increasing facility scrutiny of audiologist productivity and patient-focused quality of care metrics
Dr. Presley described in detail several practice changes4 that have been implemented in recent years at GBMC including:
A pre-operative device counseling workshop to bring CI candidates together for a group session reviewing surgery and vaccination information, realistic expectations, device selection and ordering options. This would also allow candidates to connect with others in similar stages of their implant journey.
Development of increased webpage resource links for candidates, including a private Facebook group and manufacturer resources, as well as device counseling and surgical-consent videos to streamline the process and provide consistent information
Use of non-audiologist support staff to assist with non-billable activities

Use of a clinic-trained 'CI technician' for device review, equipment set-up and pairing, externals troubleshooting and to device counseling workshop facilitation

Aural rehab therapist who sees recipients two-weeks post-IA and takes on some equipment counseling responsibilities as part of their billable time

Administrative assistants trained to provide basic equipment troubleshooting by phone and in clinic

Ongoing review and evolution of clinic protocols with a focus on increasing patient empowerment and assessment-based outcomes
Reduction over time of programming appointments in the first year post-operatively from eight to five, with no reported impact in patient outcomes or satisfaction
2. Dr. Zwolan described the need for and initiation (in 2016) of a CI Audiology Assistant position at the University of Michigan (UM) implant program.5 The potential responsibilities include:
Management of processor upgrade requests and pre-authorizations
Maintenance of clinic test equipment, loaner speech processors and hearing aids
Assistance with pediatric testing and programming
Troubleshooting of hearing aids and CI processors for walk-ins or by telephone
She also detailed CPT coding and reimbursement fee schedules associated with common CI procedures and compared these with average hourly salaries of audiologists versus audiology assistants.
According to ZipRecruiter.com, audiology assistants typically make about $34,305 annually (range = $20-60K) 

Plus benefits at 31.7% = $45,179 annual, $21.72/hour

Average annual salary for audiologists = $75,000 

Plus benefits (31.7%) = $98,775 annual, $47.48/hour

In an "average" scenario, audiologists cost about $25/hour more than a typical audiology assistant
Dr. Zwolan also provides guidance for developing a return-on-investment (ROI) proposal that clinics can use to facilitate conversations with their facilities, such as tracking current non-billable time spent in clinic to highlight the potential need for audiology assistance and relating that to improvements in patient access, satisfaction and quality of care.
3. Dr. Slager and her colleagues at the UM CI program described their site's participation in a study seeking to validate the evidence-based clinical tool to assist programming and featuring a streamlined post-operative mapping schedule for adults.6
The study protocol dictated just four programming sessions in the first six months (IA, 1-, 3- and 6-month intervals), compared to UM's existing clinic protocol at study initiation of six visits in the first six months (two-day IA, 1 week, and 1-, 3- and 6-month intervals).

Performance at the 3- and 6-month intervals was also evaluated in soundfield using CNC words and AzBio sentences at +10 signal-to-noise ratio and then compared with pre-operative scores on those same tests.
Results
At GBMC, monthly group device counseling workshops have reduced non-billable services by 75% (Fig. 1)4, while provided (and billable) clinical services have almost doubled in the past three years (Fig. 2).4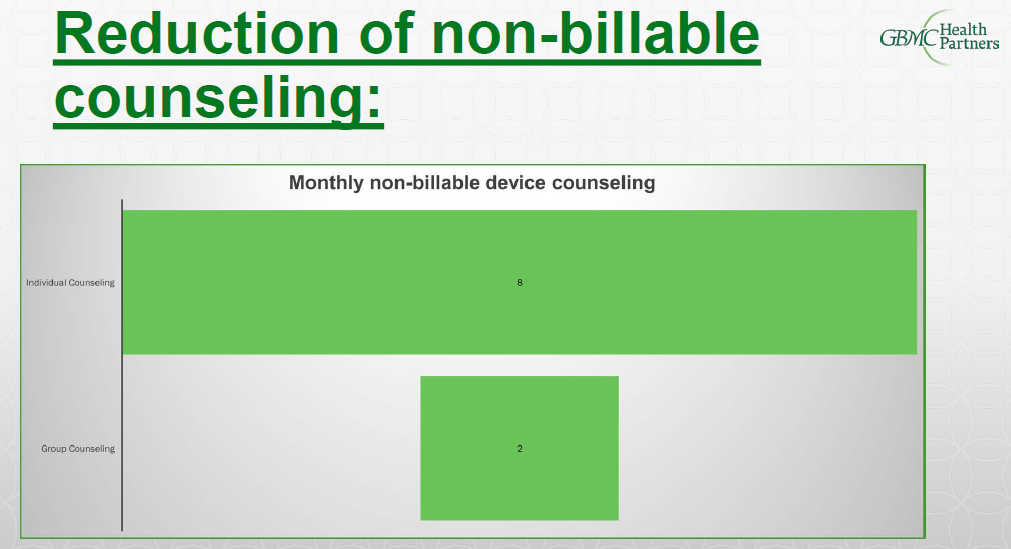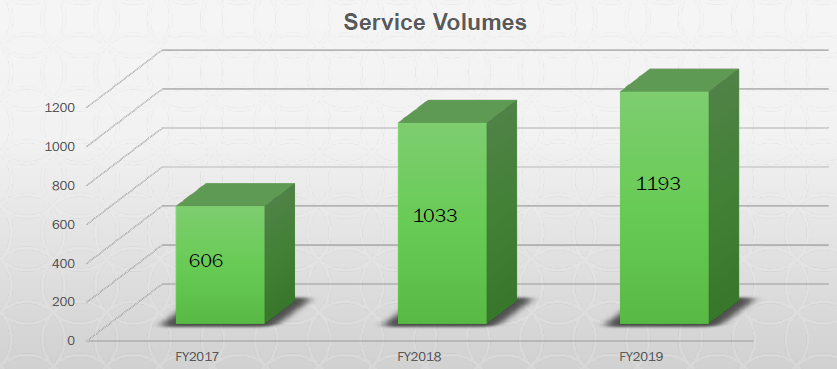 Similarly, the use of audiology assistants at the UM resulted in increased productivity and improved patient access.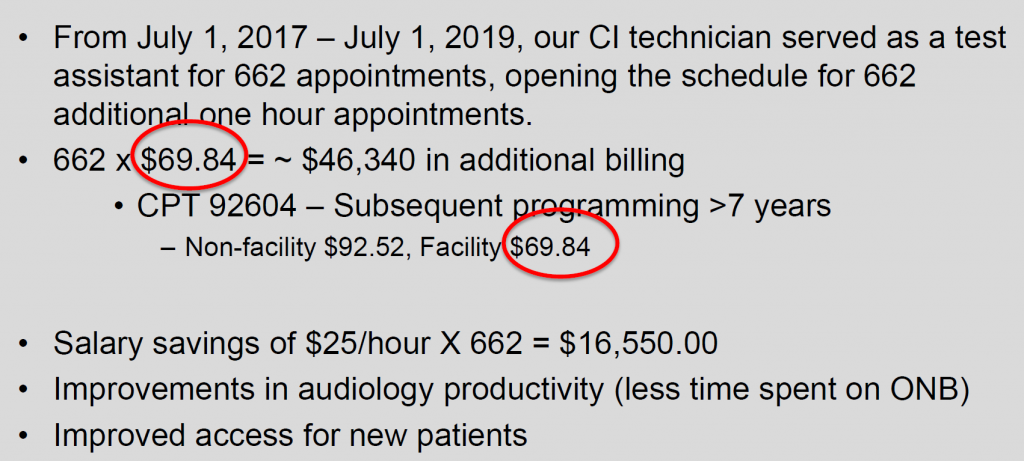 In addition, the UM poster noted improvements in CNC word scores for their eight subjects at the 3- and 6-month intervals compared with pre-operative performance. They also reported no subjective changes in clinician-patient relationship with the use of the study's novel programming procedure and two fewer programming sessions in the first six months post-activation. Based on their study experience, the UM clinic protocol has since changed by removing the Day 2 programming appointment, resulting in increased patient access and improved audiologist productivity.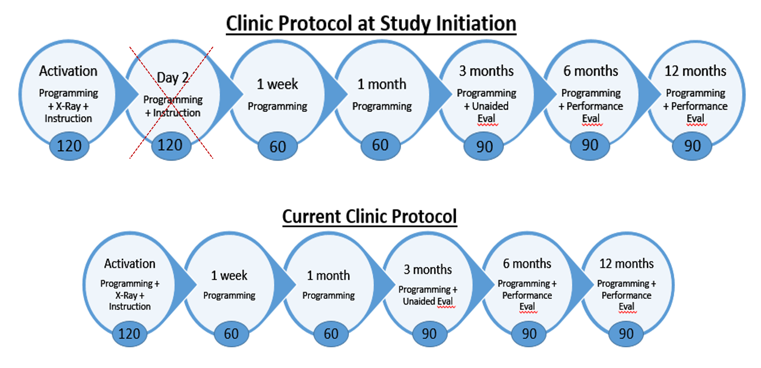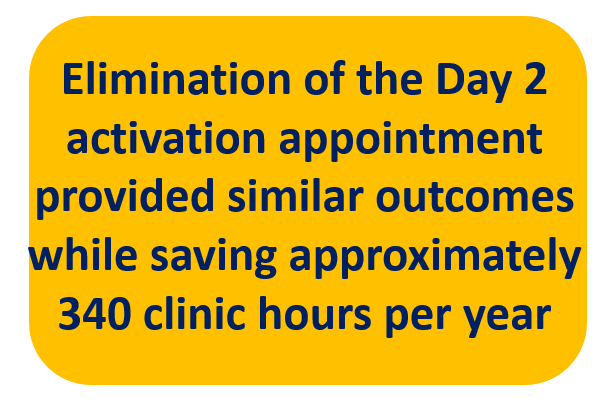 Discussion
Each of these presentations reveal examples of clinic efforts to increase both patient access and audiologist productivity while maintaining recipient outcomes. These are necessary goals for any-sized CI programming center to remain viable and sustainable providers of excellent clinical care. Individual clinic protocols should be reviewed regularly and, if evidence of potential improvements such as those noted here are seen or desired, adjusted over time to best accommodate the realities of scheduling, billable services and patient-centered outcomes.
Learn more about this exciting clinical strategy by accessing the presentations and stay tuned for next month's edition of Journal Club!
References
Blanchfield, B.B., et. Al. (2001). The severely to profoundly hearing-impaired population in the United States: Prevalence estimates and demographics. JAAA. 12, 183-189.
Cochlear internal estimate, recipients data.
Lin FR et al (2013) Hearing loss and cognitive decline in older adults. JAMA Intern Med, 174(4):293-299
Presley, R. "Increasing Efficiency While Maintaining Patient Outcomes and Satisfaction: One Clinic's Approach to a New Service Delivery Model." Presented at ACIA meeting, Hollywood, FL, July 2019
Zwolan, T. "The Benefits of Using Audiology Assistants in a Cochlear Implant Program." Presented at ACIA meeting, Hollywood, FL, July 2019
Slager, H. et al. "Artificial Intelligence-Assisted Cochlear Implant Mapping: Implications for Clinic Efficiency and Future Directions." Poster at ACIA meeting, Hollywood, FL, July 2019