The Cochlear™ Nucleus® Hybrid™ Implant System is the only FDA-approved electric-plus-acoustic option available today.
This innovative technology transforms the way hearing loss is treated, allowing adults with high-frequency hearing loss to access critical speech sounds through electrical stimulation combined with natural acoustic hearing.
Hybrid candidates struggle to hear well in noise and will report dissatisfaction with appropriately fit hearing aids. Help them get back what they are missing!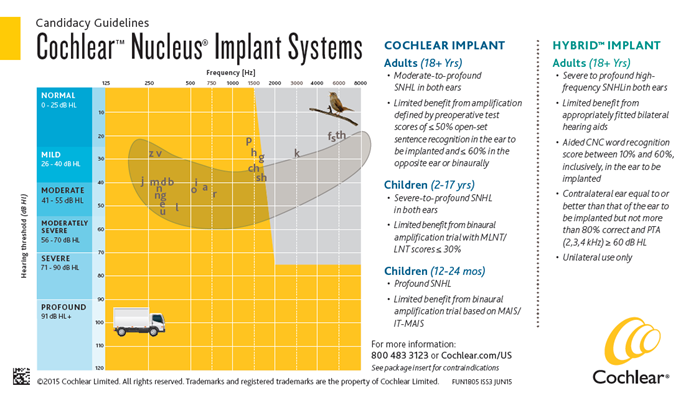 We recommend use of the CNC and AzBio tests for candidacy evaluation. Click here for the pre-operative hearing implant candidate worksheet.
Hybrid is indicated for adult unilateral use only. Cochlear's Nucleus 6 Sound Processor* is the only sound processor available today with combined electric and acoustic stimulation in a single device. Recipients often elect to continue use of their contralateral hearing aid.
Hear from recipients who use Hybrid Hearing:
* Only approved for use with the Cochlear Nucleus Hybrid Implant