By guest author: Dave Catlett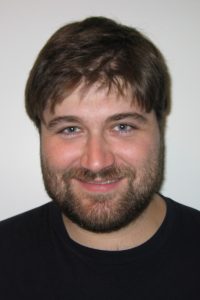 The Cochlear™ Nucleus® 7 (CP1000) sound processor gives recipients the ability to connect wirelessly to a wide variety of audio sources in several ways.
It is the first and only Made for iPhone (MFi) cochlear implant sound processor that lets recipients wirelessly connect to Apple® iOS devices and stream music, phone calls and more. In addition, Cochlear's True Wireless™ technology, including the Mini Microphone 2 and 2+, the Phone Clip and the TV Streamer, allow for reliable, untethered connectivity to the sounds that recipients want to hear.
For dynamic FM use, Nucleus 7 processors are also compatible with Phonak's Roger™ 20 integrated FM receivers. And, as always, a built in telecoil is available and can be used to interface with a variety of telephones, neck loops and looped environments, as found in some theaters, churches and meeting rooms.
All of these technologies are designed to help improve hearing performance and recipient experience in even the most challenging environments.
_____________________________________________________________________________________
The Nucleus 7 sound processor provides recipients with an unprecedented level of control over mixing ratio, which is the amount of input presented to the user from accessory/telecoil input in relation to the processor microphone input. For example, the default pediatric accessory mixing ratio is 1:1 meaning that their streaming Mini Mic 2+ and their processor microphone are presented with equivalent loudness, allowing for good awareness of environmental sounds near the recipient as well as the target input from the remote mic.  This differs from the adult default accessory mixing ratio of 2:1 which results in a 6dB attenuation of their processor mic while streaming, so the accessory signal is given more emphasis. The mixing ratio is set by the audiologist using Custom Sound® 5.0 and can be varied from ratios of 1:1 through 6:1 (with increasing processor mic attenuation) or even accessory-/telecoil-input only.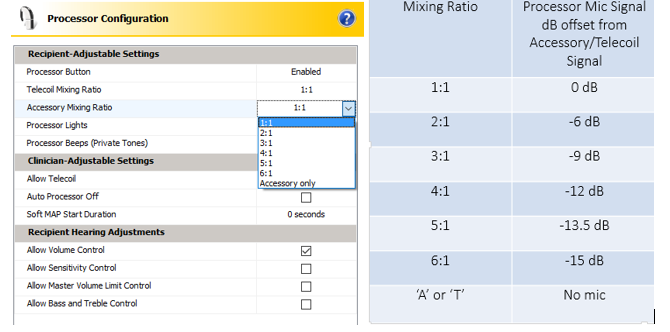 In previous generation processors like the Nucleus® 5 and Nucleus® 6, recipients could change their mixing ratio using the remote assistant. The Nucleus 7 sound processor allows for much greater control of this mixing using the Nucleus® Smart App and, if sensitivity control is enabled, using the iOS Accessibility menu or 'triple-click' Accessibility shortcut.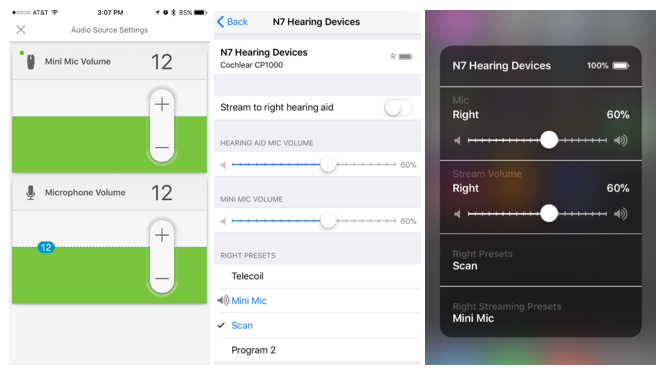 Default pediatric mixing ratio (1:1) settings as seen in (from L to R) Nucleus Smart App, iOS Accessibility menu and iOS Accessibility 'triple-click' shortcut
When streaming is active, users can make adjustments to the accessory/telecoil input and the sound processor mic independently and therefore create mixing ratios that can differ greatly from the programmed setting. This can be done in several ways:
In the Nucleus Smart App, both 'Mini Mic Volume' and 'Microphone Volume' (Nucleus 7 sound processor) can be increased or decreased from their default setting to provide the recipient with more emphasis or attenuation on either or both inputs. These are based on a scale from 0 (no sound) to 20 (+12 dB additional gain above the default sensitivity setting of 12). Mixing changes can be made using the Nucleus Smart App regardless of whether sensitivity control is enabled, or not, on the Nucleus 7 sound processor.
If sensitivity control is enabled by the clinician in Custom Sound® processor settings, then the iOS Accessibility menu allows users to adjust the 'Mini Mic Volume' and the 'Hearing Aid Mic Volume' on the Nucleus 7 via sliders that range from 0% to 100%. These controls can be found via Settings -> General -> Accessibility -> Hearing Devices (iOS 10) or MFi Hearing Aids (iOS 11).
Also if sensitivity control is enabled, a quick triple-click of the iOS device's home button brings up additional sliders to control 'Stream Volume' from the accessory and 'Mic' volume meaning the Nucleus 7. This is the same percentage range of 0-100% as seen in the Accessibility menu.
Both the app and the MFi controls allow adjustments over a range of 21 steps from 0-20 or 0-100% respectively, and each step up or down results in an increase or decrease of 1.5 dB in gain on the input source's signal.  So recipients can choose to emphasize or attenuate sounds from their accessories and Nucleus 7 sound processor in whatever mix they feel appropriate in their listening environment.  It is important to note that any changes made by the user to their mixing ratio will remain in effect only until the CP1000 is powered down, after which it will return to the setting programmed by the clinician in Custom Sound.  So if a recipient is consistently changing their mixing ratio to one that differs from this default, their clinician should consider adjusting the mixing ratio in Custom Sound to reflect the user's preferred settings.
This chart shows equivalent ratios as seen in Custom Sound, the Nucleus Smart App and iOS: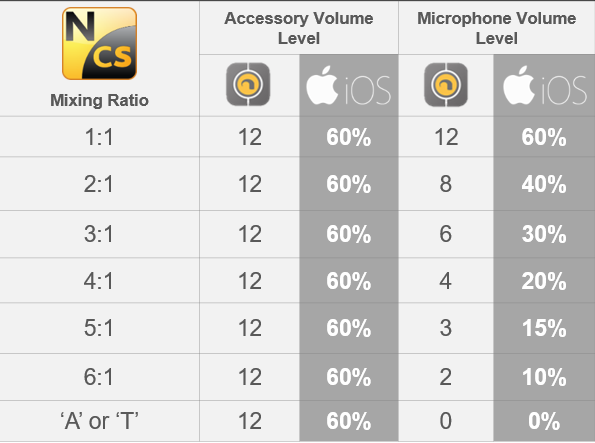 Mixing ratio controls in the Nucleus CP1000 processor is just one example of the many ways that Cochlear's latest technologies provide both simplicity and depth of control to our Nucleus 7 recipients.
About our guest author: Dave Catlett, Au.D., CCC-A, FAAA, Regional Clinical Training Manager
Dave Catlett is a Regional Clinical Training Manager for Cochlear Americas covering the Southeast and Atlantic regions.  In this role, he provides clinical training and mentorship for Cochlear field staff as well as developing and presenting clinical trainings for Cochlear's professional partners.  He earned his Masters in Audiology at UNC Chapel Hill and his Au.D through the University of Florida.  Prior to joining Cochlear in 2005, David spent several years as a clinical audiologist at UNC's pediatric cochlear implant program.

The Nucleus 7 Sound Processor is compatible with iPhone 8 Plus, iPhone 8, iPhone 7 Plus, iPhone 7, iPhone 6s Plus, iPhone 6s, iPhone 6 Plus, iPhone 6, iPhone SE, iPhone 5s, iPhone 5c, iPhone 5, iPad Pro (12.9-inch), iPad Pro (9.7-inch), iPad Air 2, iPad Air, iPad mini 4, iPad mini 3, iPad mini 2, iPad mini, iPad (4th generation) and iPod touch (6th generation) using iOS 10.0 or later.
Apple, the Apple logo, iPhone,and iPod touch are trademarks of Apple Inc., registered in the U.S. and other countries. App Store is a service mark of Apple Inc.